WIMBLEDON, England — Remember those great All-American Wimbledon weekends? Those July 4th extravaganzas when NBC trumpeted the American invasion of Britain, John McEnroe would wear his red, white and blue headbands, Jim Courier would wear his baseball cap and Pete Sampras and Andre Agassi would wear out everyone including each other?
Keep reminiscing.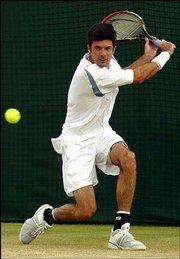 ESPN Classic is the only way to see an American man on the grass courts of the most storied tennis tournament in the world this week. For the first time since 1922, an American male is not to be found among the final 16 players at Wimbledon.
The last to depart was Jeff Morrison, a West Virginia native who won the NCAA singles title in 1999 and has scarcely been heard from since. On Saturday Morrison lost his third-round match to Sjeng Schalken 6-4, 7-6 (9-7), 6-0, joining fellow Americans Andy Roddick and Taylor Dent, who bowed out Friday.
Other Americans among the top 32 seeds No. 3 Andre Agassi, No. 6 Pete Sampras, No. 26 Todd Martin and No. 29 James Blake lost in second-round matches earlier in the week.
It is, in fact, the worst showing by the top 16 seeds at a Grand Slam event in the Open era, with only two top-seeded Lleyton Hewitt and No. 4 Tim Henman still playing. But it has been the unceremonious exits of the American contingent that has received the most attention, though Morrison, for one, did not seem overly concerned.
"I didn't even know until this morning when someone said to me, 'You're the last American,"' he said. "It was unfortunate what happened to the Americans this week in this tournament, but I didn't feel any undue pressure."
Morrison, a lucky loser at Wimbledon meaning he lost in qualifying but made the main draw as the highest-ranked qualifier when a main-draw player (American Tommy Haas) withdrew was ranked 98th coming into the tournament and was pleased with his showing.
But Morrison said American fans have reason to be optimistic as well.
"I don't think there's anything wrong with (American tennis)," he said. "There's a great group of young guys (who) are up and coming and doing well. People are getting a little impatient. You've got Andy (Roddick) and James (Blake) and Robby Ginepri and Mardy Fish, myself, Taylor Dent, and all those guys are right on the verge of cracking the top 100.
"When we do that, then no one will be talking about that anymore."
Oh, for a Jimmy Connors quote about now.
The fact is, Roddick is arguably the only legitimate hopeful to win a major championship among the young Americans, but after an impressive rookie year, Roddick has had disappointing results in the Grand Slams this year with a second-round loss at the Australian and a first-round loss at the French before losing in straight sets in the third-round here to Greg Rusedski.
"It's surprising," Roddick said of the Americans' Wimbledon showing, "but I don't know if that affects the overall state of American tennis. I still think that it's pretty good. The overall state of American tennis isn't the best it's ever been, but we're still strong as far as players winning tournaments."
Six of the top 16 seeds on the women's side have failed to reach the fourth round, but only one No. 13 Meghann Shaughnessy is an American. No. 1 Venus Williams, No. 2 Serena Williams, No. 3 Jennifer Capriati, No. 4 Monica Seles, No. 16 Lisa Raymond and qualifier Laura Granville still remain.
Venus Williams, Raymond and Seles won their matches Saturday, though all taking three sets to do it.
So desperate was the men's situation that Venus Williams was asked if she might consider slipping over to the men's draw to help her nation.
"I don't know," said Williams, thoughtfully, "it's so hard for me to get by nowadays."
Copyright 2018 The Lawrence Journal-World. All rights reserved. This material may not be published, broadcast, rewritten or redistributed. We strive to uphold our values for every story published.