Seoul, South Korea — Hours after North Korea sank a South Korean patrol boat Saturday, the president of the South and commander of U.S. forces in the country accused North Korea of violating the armistice that ended the Korean war.
A defiant North said the South fired first.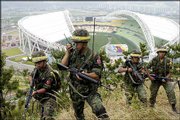 The 21-minute confrontation in the Yellow Sea is the worst border clash in recent years on the world's last Cold War frontier and killed four sailors and wounded 19. It dealt a new blow to Korean reconciliation efforts and embarrassed the South during its moment in the sun as host to the World Cup soccer tournament.
President Kim Dae-jung called an emergency meeting of the National Security Council, while South Korea's military sent a 1,200-ton battleship to the poorly marked border, accompanied by a squadron of fighter jets.
"The military provocation of pre-emptive firing by a North Korean navy patrol ship is a clear violation of the armistice and an act that raises tension on the Korean peninsula. We cannot keep silent," Kim said.
In a statement after the meeting, Defense Minister Kim Dong-shin demanded an apology, punishment of those responsible and a promise from North Korea to refrain from such actions in the future.
U.S. and South Korean forces were in "close contact" after the attack, said Gen. Leon LaPorte, who commands some 37,000 U.S. troops stationed in South Korea as a deterrent against North Korea
"This provocative act by North Korea is a serious violation of the Armistice Agreement and could have serious implications in many areas," he said.
LaPorte's statement did not elaborate. He has asked for a command meeting with North Korean officers to investigate, but said the North has not responded.
There was no immediate word on North Korean casualties or missing. A Northern warship was seen being towed away from the scene in flames, according to South Korea's Joint Chiefs of Staff.
A Pentagon spokesman, Cmdr. Randy Sandoz, said there was no "heightened alert" and South Korea had not made any request for U.S. assistance.
The clash occurred at 10:25 a.m. as South Korean navy vessels tried to repel two North Korean navy warships and an unspecified number of Northern fishing boats, the Southern military said.
Two North Korean warships ventured three miles into the South's waters, ignoring loudspeaker warnings to withdraw, the military said.
One of the Northern boats then fired a heavy caliber gun from about 500 yards, scoring a direct hit on the steering room of a South Korean patrol boat with 27 sailors aboard, the South's military said.
North Korean state-run media denied the claim, saying the northern vessel was defending itself against an intrusion into the North's waters.
The clash was the worst in three years, killing at least four South Koreans. At least one South Korean was missing. The South Korean military said 22 sailors were injured, but later revised the number to 19.
The skirmish was a setback to Kim's so-called "sunshine" policy of trying to engage the isolated, communist North, which shares a sealed, heavily fortified border with the South. The 1950-53 Korean War ended with an armistice, not a peace treaty.
South Korea's opposition Grand National Party, which has criticized Kim's policy toward the North as too lenient, speculated that North Korea was trying to disrupt the World Cup soccer tournament, which is being co-hosted by South Korea and Japan and ends today.
President Kim canceled plans with Cabinet ministers and aides to watch the South Korean team's evening playoff game against Turkey on television. Big crowds gathered in the streets of major cities to cheer their national soccer team, which lost 3-2.
It was unclear how the incident would affect prospects for a revival of long-suspended dialogue between North Korea and the United States, South Korea's chief ally.
Copyright 2018 The Associated Press. All rights reserved. This material may not be published, broadcast, rewritten or redistributed. We strive to uphold our values for every story published.