Minneapolis — Katie Smith scored 25 points as the Minnesota Lynx ended a five-game losing streak by beating the Orlando Miracle, 67-59, Saturday night.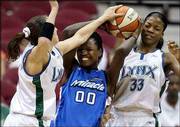 Smith scored 15 points in the first half as the Lynx (5-8) won for the first time since June 13 against Portland.
Orlando (7-6) committed 18 turnovers, resulting in 22 Minnesota points, and shot just 38 percent. But the Lynx had 17 of their own turnovers and went more than 7 minutes down the stretch without a point.
Kristi Harrower hit a three-pointer with 7:53 to play to give Minnesota a 65-48 lead, its biggest of the game. But the Lynx didn't score again until Smith hit two free throws with 47.1 seconds to play.
Orlando managed just 11 points during that stretch and never came closer than six points.
The Lynx scored 17 points off turnovers in the first half, taking control with a 22-9 run to close the half with a 40-30 lead.
Copyright 2017 The Associated Press. All rights reserved. This material may not be published, broadcast, rewritten or redistributed. We strive to uphold our values for every story published.