Barry Bonds, Sammy Sosa and Alex Rodriguez are no-brainers. Picking the rest of the major league All-Stars, however, is no simple task.
Give it a try. Nomar Garciaparra or Derek Jeter? Jim Edmonds or Brian Giles? And what about Bartolo Colon, who was a lock to make the American League squad until he got traded to the NL's Montreal Expos on Thursday?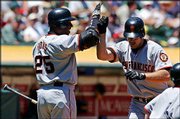 Each league gets only 30 spots and every team must be represented even the Tampa Bay Devil Rays. That means tough choices.
New York Yankees manager Joe Torre is in the process of putting together his fifth AL All-Star team in six years, and he still doesn't have it down yet.
"It's very easy to take a half-dozen shortstops," Torre said. "You can take a half-dozen first basemen. It's tough. I mean it's a good tough, because you have a lot of people who are quality out there, so we'll have to figure it out."
Here's some help, Joe. Without regard to fan balloting, we offer our selections for the 73rd All-Star game at Miller Park in Milwaukee on July 9. The actual teams will be announced Sunday night in a made-for-TV special on ESPN.
AL First Base: The start goes to New York's Jason Giambi (21 homers). Chicago's Paul Konerko, leading the league with 70 RBIs, Cleveland's Jim Thome and Kansas City's Mike Sweeney also make it. Seattle's John Olerud and Toronto's Carlos Delgado just miss at a power-packed position.
Second Base: New York's Alfonso Soriano, who ranks among the league leaders in nearly every major offensive category, is the only choice. Probably the first of many trips to the Midsummer Classic for this gifted young player.
Shortstop: Rodriguez (24 HRs, 65 RBIs) is putting up more mind-boggling numbers for Texas. Boston's Garciaparra (59 RBIs) and Cleveland's Omar Vizquel edge Oakland's Miguel Tejada and Yankees star Jeter in a close call for two reserve spots.
Third Base: Eric Chavez of Oakland barely beats out New York's Robin Ventura for the start because of better defense. Sorry, Shea Hillenbrand of the Red Sox 11 walks don't cut it.
Catcher: New York's Jorge Posada is the best of a thin bunch. A backup is needed, so it's Minnesota's A.J. Pierzynski (.327 batting average), who is quietly having a solid season. Try finding someone else.
Outfield: Torii Hunter of the Twins, one of baseball's best all-around players, starts in center field. Seattle star Ichiro Suzuki (113 hits) is in right, and Chicago's Magglio Ordonez in left. The reserves are Anaheim's Garret Anderson, Boston's Johnny Damon (60 runs scored), and Tampa Bay's Randy Winn (.308 batting average, 21 doubles).
Starting Pitchers: Boston's Derek Lowe (11-3, 2.16 ERA), a converted closer, gets the starting nod. Red Sox ace Pedro Martinez (9-2, 3.07), Oakland lefty Barry Zito, Chicago's Mark Buehrle, Toronto's Roy Halladay, Detroit's Jeff Weaver (3.32 ERA), Anaheim's Jarrod Washburn (8-2) and Seattle's Freddy Garcia (10-5) also make it. The trade costs Colon (10-4, 2.55 with Cleveland) his second All-Star appearance.
Relievers: Minnesota closer "Everyday" Eddie Guardado, leading the league with 23 saves, is joined by Seattle's Kazuhiro Sasaki (0.32 ERA), Boston's Ugueth Urbina and Baltimore setup man Willis Roberts (5-2, 1.65).
NL First Base: Forget about Coors Field, Colorado's Todd Helton (.616 slugging percentage) might be baseball's best pure hitter. Milwaukee's Richie Sexson (18 HRs, 57 RBIs) makes it as well.
Second Base: Jose Vidro of the surprising Expos and Arizona's Junior Spivey both rank among the league leaders in a bunch of key offensive categories. Neck-and-neck for the start, give it to Vidro. Luis Castillo's recent 35-game hitting streak for Florida also warrants a spot.
Shortstop: Slim pickings here besides Jose Hernandez (13 HRs), giving the hometown Brewers two representatives. Atlanta speedster Rafael Furcal steals the backup role despite 14 errors.
Third Base: Florida's Mike Lowell (.319 batting average, 52 RBIs) is the clear choice here. Spivey can also play third.
Catcher: Through all the bumps, bruises and throwing problems, Mike Piazza (14 HRs) of the New York Mets is still the best-hitting catcher in the big leagues. Behind him, San Francisco's Benito Santiago (38 RBIs) earns his first trip to the All-Star game in 10 years.
Outfield: Bonds starts in left, Sosa and his major league-leading 27 homers in right and Shawn Green (25 HRs) of the Dodgers in center. Then the competition gets really tight. Houston's Lance Berkman tops the league with 65 RBIs, Montreal's Vladimir Guerrero claims a spot and second-year slugger Adam Dunn (.456 on-base percentage) represents Cincinnati. Pittsburgh's Giles and Colorado's Larry Walker also make the cut. Cardinals center fielder Edmonds is left out only because he missed some time with an injury. Luis Gonzalez, Pat Burrell, Cliff Floyd and Andruw Jones can't quite make it.
Starting Pitchers: Atlanta's Tom Glavine draws the starting assignment with an 11-3 record and a major league-leading 1.75 ERA. Arizona aces Curt Schilling and Randy Johnson follow, joined by Dodgers lefties Odalis Perez (9-3, 2.33) and Kazuhisa Ishii (11-3, 3.36). Also in are Philadelphia's Vicente Padilla (10-4, 2.95), St. Louis' Matt Morris (10-5, 3.03), Pittsburgh's Kip Wells (9-4, 3.09) and Mets right-hander Pedro Astacio (2.92) the only one of general manager Steve Phillips' offseason moves to pan out thus far.
Relievers: Dodgers closer Eric Gagne, leading the majors with 29 saves, and Atlanta's John Smoltz both former starters are in the bullpen. San Diego's steady Trevor Hoffman also gets the call.
Copyright 2018 The Associated Press. All rights reserved. This material may not be published, broadcast, rewritten or redistributed. We strive to uphold our values for every story published.