Boston — Injuries to starting pitchers don't bother the Atlanta Braves, not with the best bullpen in baseball ready to take over.
Kevin Millwood left the game with a blister one day after Greg Maddux's outing was cut short by a sore calf, but the Braves beat the Boston Red Sox for the second straight game, 2-1 Saturday behind Gary Sheffield's two-run homer.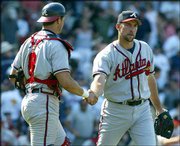 "With our bullpen, it makes it easier to come out of a game," Millwood said after striking out a season-high 10 batters in 52/3 innings. "You give them a lead late in the game, and it seems like they don't give it up."
The Braves, 36-1 when leading after the seventh inning, have a major league-best 2.97 ERA overall and a 2.34 ERA among their reliever. On Saturday, reliever Kevin Gryboski, Mike Remlinger, Darren Holmes and John Smoltz gave up one walk, two hits and no runs in 31/3 innings as Smoltz got his 27th save in 30 chances and second in two days.
"If you have a deep 'pen you're way ahead of the game. And if you have good starters you're really way ahead of the game," Atlanta manager Bobby Cox said.
Millwood (5-5) allowed four hits and one walk before leaving with a blister on the middle finger of his right hand after Nomar Garciaparra's two-out double in the sixth. Gryboski then gave up Manny Ramirez's RBI single, but Boston managed just one hit the rest of the way.
Sheffield's 13th homer of the season in the third off Derek Lowe (11-4) was one reason. It helped the Braves set a team record for wins in June at 20-5.
Lowe suffered his second consecutive loss despite seven innings in which he struck out six and allowed two walks and six hits. After not allowing a homer in his first 12 starts, he gave up his fourth in his last four to Sheffield.
White Sox 5, Cubs 4
Chicago Carlos Lee hit a solo homer, and Frank Thomas homered and drove in three runs as the White Sox defeated their crosstown rival Cubs.
It was the fourth victory in five games for the White Sox, and it gave them a 3-2 edge in this year's city series.
Moises Alou went 4-for-4 and homered twice for the first time in more than a year, but it wasn't enough to keep the Cubs from dropping their fifth straight.
Giants 5, Athletics 3
Oakland, Calif. Batting third in the lineup for the third straight game, Jeff Kent hit a two-run homer and drove in another run to lift San Francisco over Oakland.
Jason Schmidt (4-2) allowed three runs on six hits over seven innings for the Giants, who have won four of their last six games. Cory Lidle (2-7) allowed four runs on eight hits in six innings pitched.
Kent is 8-for-15 with three doubles, two home runs and 12 RBIs., since Giants manager Dusty Baker switched Kent and Bonds in the lineup.
Mets 11, Yankees 2
New York Roger Cedeno scored on a straight steal of home, and Mo Vaughn, Mike Piazza and Vance Wilson all homered as the Mets beat the New York Yankees 11-2.
AL Leiter (8-6) shut down the powerful Yankees, who lead the majors with 125 homers, and the Mets evened this Subway Series at a game each and have won three of five against their crosstown rivals this season.
Leiter gave up a solo shot to Derek Jeter in the first but scattered just five other hits over seven sharp innings to lower his ERA to 2.95.
Blue Jays 5, Expos 4, 10 innings
Toronto Eric Hinske hit a game-winning home run in the 10th inning as Toronto rallied for a victory over Montreal.
Hinske, who homered off Matt Herges (2-2), went 3-for-5 for the Blue Jays, who came back from a 4-1 deficit in the ninth. Kelvim Escobar (4-4) pitched two innings for the win.
Before Joe Lawrence's run-scoring fielder's choice, Montreal's bullpen hadn't allowed an earned run in eight games a span of 232/3 innings.
Marlins 3, Devil Rays 2
St. Petersburg, Fla. Cliff Floyd homered for the third time in four games, and Preston Wilson also homered as Florida won for the sixth time in seven games. Julian Tavarez (6-4) allowed two runs and seven hits in 61/3 innings to improve to 4-1 in June.
Reliever Armando Almanza bailed Tavarez out of a seventh-inning jam, and Vladimir Nunez pitched a perfect ninth to earn his 18th save in 23 opportunities.
Brewers 10, Twins 2
Minneapolis Matt Stairs went 3-for-4 with two homers and Jose Cabrera (4-5) pitched six strong innings to lead Milwaukee over Minnesota. Paul Bako also had three hits with a homer and three RBIs for the Brewers, who snapped a six-game interleague losing streak.
Corey Koskie homered for the Twins, who saw their lead in the AL Central fall to five games over the Chicago White Sox.
Diamondbacks 4, Indians 2
Cleveland Brian Anderson dominated his hometown team for 71/3 innings and led Arizona past Cleveland. After giving up a homer to Jim Thome in the second, Anderson (7-3) retired 13 straight and 19 of the final 21 he faced, allowing just four hits.
The left-hander won for just the second time in 19 starts. He went 17 consecutive starts over two seasons without a win before beating Baltimore on June 18.
Tigers 2, Pirates 1
Detroit Jeff Weaver pitched 72/3 sharp innings to help the Detroit Tigers end a four-game losing streak. The Tigers won for just the second time in 10 games, while Pittsburgh lost for the 11th time in 15.
Weaver (6-8) allowed one run on seven hits, walked one and hit a batter. He struck out four. Juan Acevedo got the final out in the eighth, and pitched an eventful ninth, striking out Jack Wilson with the bases loaded for his 12th save.
Orioles 11, Phillies 1
Baltimore Gary Matthews Jr. had a career-high five hits, including a two-run homer, and Jason Johnson pitched a six-hitter as Baltimore routed Philadelphia. Johnson (3-5) allowed one run and scattered six hits in his first complete game of the season, and third of his career.
Melvin Mora hit a leadoff homer for the second straight game and Tony Batista had four hits and two RBIs for Baltimore, which matched a season-high with 18 hits.
Mariners 8, Rockies 1
Seattle Freddy Garcia, making a strong bid to be included on the AL All-Star team, allowed six hits in eight innings and Seattle hit three home runs to beat Colorado. Garcia (11-5) retired 10 of the first 11 batters he faced.
Edgar Martinez hit a three-run home run in the Mariners' four-run fifth and Ichiro Suzuki had a homer and a single as Seattle won its fifth straight. Bret Boone homered for the second night in a row, hitting a solo shot to right in the seventh.
Astros 8, Rangers 5
Arlington, Texas Lance Berkman hit a three-run home run, and Geoff Blum had a two-run homer to rally Houston past Texas. The Astros trailed 5-0 one batter into the bottom of the third, then began their comeback with an RBI single by Craig Biggio in the fifth. Blum's homer in the sixth made it 5-3.
Jay Powell (1-1) replaced Texas starter Dave Burba to start the seventh and gave up the lead before he got an out. Julio Lugo led off with a single and Biggio walked, then Berkman drove the ball over the center-field wall for his 25th homer.
Angels 7, Dodgers 0
Los Angeles Aaron Sele retired 23 of his last 25 batters and pitched a three-hitter as Anaheim beat Kazuhisa Ishii for the second time in 16 days with a victory against Los Angeles.
Tim Salmon went 3-for-4 with a homer and three RBIs, and Sele (7-5) limited the team with the NL's best record to a pair of singles. The right-hander struck out five, walked one and hit a batter while going the distance.
Copyright 2018 The Associated Press. All rights reserved. This material may not be published, broadcast, rewritten or redistributed. We strive to uphold our values for every story published.