La Paz, Bolivia — With the economy sliding and crime so rampant it's provoked lynchings, Bolivians vote for president and Congress today following a campaign in which some candidates have urged radically changing the political system and overturning the free-market economy.
Polls show that when voters cast ballots for president and Congress, among the top vote-getters will likely be Evo Morales, an indigenous leader of Bolivia's coca farmers who was expelled from Congress last year after being accused of inciting violence, and Manfred Reyes Villa, a former military captain offering "social revolution."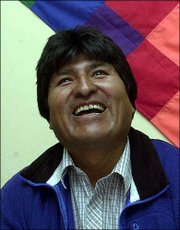 At the end of the day, however, Bolivians have a history during their 20-year-old democracy of voting conservatively, and substantive change appears unlikely. Behind Reyes Villa in the polls are two former presidents: Gonzalo Sanchez de Lozada and Jaime Paz Zamora.
"There has never been an election in such a delicate environment," said Luis Ramiro Beltran, president of the National Electoral Court that oversees votes. "The Bolivian people had hoped that with the coming of democracy 20 years ago, things would be different. But it's worse than before."
At least six of every 10 Bolivians live in poverty, and in rural areas it's nine out of 10. Many children leave school to earn livings shining shoes.
Violent crime, including bank robberies and kidnappings, are on the rise in a nation once known for its tranquility. Having lost faith in the justice system, mobs have tried to lynch at least 50 suspected criminals during the past two years.
Public despair in South America's poorest nation is heightened by a widespread belief that politicians care only about increasing their personal wealth.
Copyright 2018 The Associated Press. All rights reserved. This material may not be published, broadcast, rewritten or redistributed. We strive to uphold our values for every story published.