Cicero, Ill. — Dario Franchitti had to wait through a sort of overtime in qualifying Saturday to take his first pole on an oval track in four years.
The Scotsman posted the fastest lap for today's CART Chicago Grand Prix at 158.118 mph. He was already in celebration mode when two drivers who had already made qualifying runs Adrian Fernandez and Michael Andretti decided to take another shot.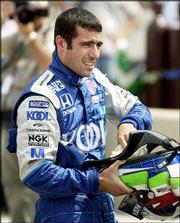 They were able to do that because there was still nearly 20 minutes left in the session scheduled for 45. Usually, any time remaining after qualifying is finished is used for open practice.
As far as anybody could remember, it was a first for CART when Fernandez and then Andretti withdrew their already qualified primary cars and took another shot at the 18-car field.
"I didn't expect that," Franchitti said. "It was pretty uncomfortable there for a while. Both of those guys could certainly win the pole."
Happily for Franchitti, neither was able to dislodge him from the 11th pole of his CART FedEx Series career and his first on an oval since taking the top spot in Rio de Janeiro in the spring of 1998.
Fernandez, the only driver-owner in the Champ car series, had qualified 17th at 152.539. Andretti was 15th at 154.414. Both expected better, but experienced problems with the popoff valve on their turbocharged engines. So they took another shot at improving their status.
Under CART rules, each driver was allowed five warmup laps and one qualifying lap, rather than the two each got with their primary car.
"It was necessary," said Fernandez, who improved to 156.893, jumping all the way to sixth. "We were in the back and I didn't want to start there. It's hard to pass here.
"If I had a second lap ...," he let the thought trail off.
Kim Green, team manager for Andretti, saw that and decided to take the same chance with his driver.
"Qualifying on this track is probably more critical than any other track we run all year," Green said.
The Motorola team's dice roll didn't produce much, though, with Andretti's 155.100 moving him only to 14th.
"It was a gamble because we didn't have new tires and that cost us three-tenths (of a second)," Andretti said. "When you're back where we were, 15th or whatever, you might as well take the chance."
Franchitti stood in the 90-degree heat in the pit lane and watched, a bit bemused, as the two drivers took their chances on the tight, 1.029-mile oval that doubles as a horsetrack (Sportsman's Park) with tons of dirt spread over the asphalt.
"I think we're lucky the car rolled out of the truck fast this morning, with the limited time we have here," said the relieved Franchitti, referring to the fact that this is one of only two two-day events on the 20-race CART schedule.
Alex Tagliani took the other front row spot at 158.078, followed by series leader Cristiano da Matta at 158.017.
Da Matta, who goes into the 250-lap race with a 20-point lead over Bruno Junqueira and Michel Jourdain, won here from fifth in 2000. But he has struggled on ovals since switching last season to Newman-Haas Racing.
All but two of his 74 points have come on road courses.
"I'm really happy, considering the way we've been running on ovals," da Matta said. "It's a big improvement, believe me. But it's two different stories to qualify well and race well."
Junqueira, who won on the oval in Motegi, Japan, in April, qualified fifth at 157.333. Jourdain, the season's biggest surprise since getting ride with Team Rahal, was last at 152.325.
Kenny Brack, the defending race winner, who has moved from Team Rahal to Chip Ganassi Racing, was 12th at 155.706. Paul Tracy, whose team is contesting Helio Castroneves' win in the Indianapolis 500 and who won on the one-mile oval in Milwaukee, was 13th at 155.340.
Copyright 2018 The Associated Press. All rights reserved. This material may not be published, broadcast, rewritten or redistributed. We strive to uphold our values for every story published.