New York — Stunned by news of another accounting scandal, this time at WorldCom, investors sent stocks plunging Wednesday, with the Dow Jones industrials falling below 9,000 for the first time since October. But the market managed to close narrowly mixed, aided by computer-generated buying late in the day.
Despite the comeback, which was based on technical factors rather than a fundamental shift in market sentiment, analysts said Wall Street remained in a serious downturn amid questions about corporate ethics, weak earnings prospects and the lingering possibility of more terrorist attacks. Investors have little reason to buy stocks for the foreseeable future.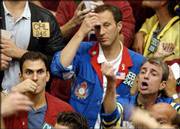 "Valuations are still high," said Richard A. Dickson, technical analyst at Hilliard Lyons in Louisville, Ky. "And, you have a perception that corporate America is not being straight with investors, and that the point of accounting is to hide rather than divulge."
After falling as much as 200.25, the Dow closed down just 6.71, or 0.1 percent, at 9,120.11. The Dow sank 155 Tuesday, its fourth triple-digit loss in the past five sessions.
The Dow hadn't traded below 9,000 since Oct. 10, and last closed below that milestone on Oct. 2, when it reached 8,946.56. At that time, the market was recovering from the precipitous drop it suffered following the Sept. 11 terrorist attacks.
An announcement from WorldCom that it disguised $3.8 billion in expenses last year and early in 2002 shook a market already mistrustful about corporate accounting,
WorldCom did not trade Wednesday. But telecommunications stocks were weak with AT&T; declining 33 cents to $9.62.
The financial sector fell on investors' concerns that banks would lose money on WorldCom loans, estimated at $2.6 billion. Citigroup sank $2.12 to $37, while Bank of America fell $2.58 to $67.45.
Stocks have fallen for nearly six weeks, dimming hopes of a recovery.
Copyright 2018 The Associated Press. All rights reserved. This material may not be published, broadcast, rewritten or redistributed. We strive to uphold our values for every story published.