Dreama Biggers hadn't been drinking, but the homeless woman still chose to sleep at Lawrence Open Shelter when it opened Tuesday night in the gymnasium of St. John's School, 1208 Ky.
"I like the kindness that I get out of here," Biggers said. "I like the fact we have choices. I'm Catholic, so it's kind of like home to me."
St. John the Evangelist Catholic Church originally was host to an open shelter at the gymnasium last summer. This summer, however, homeless advocates had to get city permission before opening to more than 15 guests Tuesday. The shelter has permission to remain open through Aug. 12.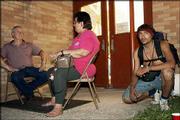 The Salvation Army is also operating a summer homeless shelter at 946 N.H. But that organization won't admit people who have been drinking. Lawrence Open Shelter will take those people, as long as they don't bring drugs or alcohol to the shelter and obey a few other rules.
"We're not here to check up on anybody," said Herman Leon, a member of Lawrence Open Shelter's board. "We're here to treat everybody with respect."
Guests of the shelter were greeted with sandwiches, fruit and other snacks, as well as an orientation talk to remind them to treat the neighborhood with respect; some neighbors had opposed the shelter's return because of disturbances last year.
The Lawrence City Commission could revoke the shelter's permit if neighbors have problems; that possibility prompted a rule limiting the number of people who can smoke outside the shelter at one time.
"I don't expect that to be a problem," Kathy Wright, the shelter coordinator, said during the orientation. "Just remember, this is kind of your home for the night."
| | | |
| --- | --- | --- |
| | | |
| | The Lawrence Open Shelter, 1208 Ky., is open from 8:30 p.m. to 7 a.m. through Aug. 12. Guests may check in until 10 p.m. Refreshments are provided, but there are no showers. | |
| | | |
Copyright 2018 The Lawrence Journal-World. All rights reserved. This material may not be published, broadcast, rewritten or redistributed. We strive to uphold our values for every story published.