RAMALLAH, West Bank — Israel expanded its control of Palestinian territory Monday as troops and tanks surrounded Palestinian leader Yasser Arafat's Ramallah compound and, in the Gaza Strip, army helicopter gunships struck leading Hamas militants dead.
The takeover of Ramallah, pummeled time and again by Israeli armor since this spring, falls under Israel's new strategy to seize and hold Palestinian-held land until suicide bombings and shootings subside. As of Monday, six major cities in the West Bank were under Israeli military lockdown.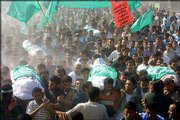 "There are big tanks and small tanks and bulldozers," said Arafat aide Ahmed Abdul Rahman. "They came out here today without any reason. They know there is nothing here to achieve militarily. They just want to sabotage any chance for peace."
Israel Prime Minister Ariel Sharon indicated the military effort would move beyond the West Bank and that Israel was "preparing massive activity" against the militant Hamas movement. The Islamic group has engineered dozens of suicide bombings during the nearly 21-month-old Palestinian intifada.
Sharon, speaking Monday to parliamentarians from his Likud Party, indicated that the helicopter missile attack on two cars, which killed six Palestinians and wounded five more in the southern Gaza Strip, was the beginning of a new offensive.
Palestinian sources confirmed that four of the dead were Hamas members, and two were considered senior military commanders in Hamas. Israel Radio said the army had targeted Yasser Rizik, one of the six, based on information that he was linked to a January attack that killed four Israeli soldiers.
Rizik was the commander in the area around Rafa, in southern Gaza. Another of the dead, Amr Kouffa, was described as a top activist of Hamas' military wing, according to media reports.
Following the strike, Hamas vowed in a statement to step up suicide attacks, which some in Palestinian society defend as justified in the face of what they term Israeli occupation.
"We emphasize our right to continue the jihad and resistance and to intensify the martyrdom operations as a reaction to the policy of the occupation and the (Palestinian) Authority," the Hamas statement said. Militants and most Palestinian media outlets routinely refer to the suicide attackers as martyrs.
Copyright 2018 The Lawrence Journal-World. All rights reserved. This material may not be published, broadcast, rewritten or redistributed. We strive to uphold our values for every story published.