Osaka, Japan — Turkey's biggest soccer victory meant a spot in the World Cup semifinals. It also meant another chance at Brazil.
The Turks have been eager for payback ever since they lost 2-1 to the four-time champions on a controversial late penalty kick in the first round.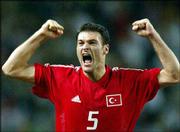 They earned a second meeting Saturday night thanks to substitute Ilhan Mansiz's deflection of a perfect cross by Umit Davala four minutes into overtime for a 1-0 victory over surprising Senegal.
One of the longest shots from Europe, the Turks dominated the match with the Africans. So it's on to Saitama, Japan, on Wednesday to face the classy South Americans. The way this World Cup has gone, don't count out the Turks.
"Brazil is one of the best teams in this tournament and everyone knows that and sees that," coach Senol Gunes said. "The first game, we didn't deserve to lose. It was a mistake by the ref. But we have showed our strength in other games. We deserve to be in the semifinals, once again against Brazil."
As for his team's chances of advancing to the finals in Turkey's first World Cup in 48 years, Gunes added: "It's 50 percent for us, 50 for Brazil. But the quality of our play is increasing in every game for us and that is a big advantage."
They had the advantage nearly the entire night against Senegal, which was a headliner in its first trip to soccer's showcase. The Africans looked tired.
"It's been an exceptional adventure here at the World Cup," said Senegal coach Bruno Metsu, a Frenchman who allowed his players the freedom to be adventurous on the field. "I am very proud a small country like Senegal can come to the World Cup and compete among the best in the world."
After Mansiz beat Lamine Diatta to the pass and turned it with his right foot into the far corner of the net, hundreds of flashbulbs went off. The Turks dived on each other along the right sideline, then hurried en masse to bow before their rooting section at the far end.
Back in Turkey, fans streamed out of homes, shops and cafes, singing "Champion Turkey," waving flags, dancing, singing and giving each other high-fives.
"This is the most important match in our history," said Nuri Nazli, a 40-year-old civil servant. "I've never been so happy in my whole life."
South Korea 5, Spain 3 (shootout)
Gwangju, South Korea South Korea did it again. Next up, Germany.
The World Cup co-hosts kept their improbable World Cup run alive Saturday, surprising Spain 5-3 in a penalty-kick shootout after a 0-0 tie, becoming the first Asian nation ever to reach the semifinals.
Hong Myung-bo scored the game-winner after goalkeeper Lee Woon-jae saved a penalty shot by Joaquin Sanchez.
South Korea, which hadn't won a game at five previous trips to the World Cup, will play Germany in the semifinals on Tuesday in Seoul. The three-time champion Germans beat the United States 1-0 on Friday.
South Korea coach Guus Hiddink said his team's unprecedented achievement was "so outrageous, it's almost without limits." The victory followed a 2-1, come-from-behind upset of Italy in overtime in the second round. The team also beat Portugal and Poland, and tied the Americans.
"I cannot describe how I am feeling. I am so happy for the boys. I think now it is a complete dream," Hiddink said. "I think more dreams have come true now."
It was a bitter loss for Spain, which was in its 11th World Cup. The team had several excellent scoring opportunities late in the game, hitting the post on one shot and having a goal disallowed on a questionable call by the linesman, who ruled the ball had crossed the end line.
Spain had been considered one of the tournament favorites after winning its first four games. But co-host South Korea, one of the biggest surprises of a World Cup full of upsets, had other ideas, playing solid defense and scoring on all five of its penalty kicks.
"Is it true that we are advancing to the semifinals? It's unbelievable," defender Choi Jin-cheul said.
Besides Hong, the penalty-kick goals were scored by Hwang Sun-hong, Park Ji-sung, Seol Ki-hyeon and Ahn Jung-hwan. For Spain, Fernando Hierro, Ruben Baraja and Xavi Hernandez scored. The team did not take its last kick.
Copyright 2018 The Associated Press. All rights reserved. This material may not be published, broadcast, rewritten or redistributed. We strive to uphold our values for every story published.