Journalist Helen Thomas has covered nine presidents, from John F. Kennedy to George W. Bush, earning the unofficial title of dean of the White House press corps during her days with United Press International.
To say she's seen it all does not begin to describe the dramatic scope Thomas has chronicled for the past 40 years. Yet Thomas understands it's often a president's funnier appearances on the world stage that many of us remember best.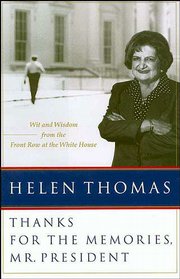 "Thanks for the Memories, Mr. President" is her chronological telling of those defining comedic moments. Thomas' third memoir of her days, until 2000, as White House correspondent is subtitled "Wit and Wisdom From the Front Row at the White House" and is more the former than the latter.
After all, the best of our leaders understand that wit is wisdom.
"I think (Gerald) Ford has been one of the rare few who have realized how humor is the great leaven for presidents," Thomas writes of the president who infamously stumbled out of Air Force One in Austria in 1975, in plain view of dignitaries, reporters and photographers.
That same year, Ford had the grace to tell those at the annual Gridiron Club dinner in Washington:
"... When we are able to look at the brighter side of our troubles, and the lighter side of our struggles, and see the smile that lies just below the surface of our neighbor's face, I think we Americans are at our very best."
Thomas contends Kennedy and Ronald Reagan were the best at using humor to their political advantage. Lyndon Johnson and Richard Nixon liked to turn the joke on reporters. George Bush and veep Dan Quayle sometimes provided the best, and most embarrassing, unscripted humor.
"And who could ever forget (Quayle's) galvanizing speech at an affair honoring the United Negro College Fund, which has for years had the slogan 'A mind is a terrible thing to waste.' 'What a waste it is to lose one's mind,' Quayle said, 'or not to have a mind. How true that is."'
Bill Clinton was the master of self-deprecation. Jimmy Carter relied on the legendary sense of humor of his mother, Miss Lillian, when he chose to lighten the moment, Thomas claims.
Thomas is not shy about showing off her own sense of humor, recounting:
"I was standing behind the rope line with the rest of the press corps, and one of the (George Bush) dogs, Millie or Ranger, came bounding out and headed straight for me," she recalls of one day in 1992.
"A small shriek can be heard off-camera, and Bush turns around to see what all the commotion is about.
"'What happened?' he asks, and someone out of camera range tells him. Bush turns back to head into the White House and can be heard muttering, 'Sic 'errrr. ..."'
Not all of Thomas' accounts are amusing, including Jacqueline Kennedy's scolding a U.S. Navy aide: "Shape up or ship out." Others are lame, such as her reminder to someone guarding Carter's visit to a Plains, Ga., Bible study class: "I'm no lady, I'm a reporter."
Thomas' own biases are clear. She recounts with equal reverence and pride how, during Kennedy's administration, she became the first woman to close a presidential news conference:
"... At what I thought was the appropriate time, I stood up and said my line 'Thank you, Mr. President' but got drowned out by a chorus of newsmen still seeking recognition. It was a terrifying moment. I waited a bit longer until Kennedy was struggling with the answer to a complicated question and shouted, 'Thank you, Mr. President!' Kennedy looked over and said, 'Thank you, Helen."'
"Thanks for the Memories, Mr. President" is not so much hilarious as it is an engaging reminder of the kind of history that seldom makes the front page, or any page, of the newspaper. It recalls moments that still manage to tell us a great deal about the president, his time and ourselves.
Copyright 2018 The Associated Press. All rights reserved. This material may not be published, broadcast, rewritten or redistributed. We strive to uphold our values for every story published.