Orlando — Los Angeles Clippers guard Quentin Richardson was unimpressed. He shrugged off Yao Ming, the Chinese center who has so captured the NBA's imagination.
Richardson disrespected Yao. He doesn't look like he'll be a huge shot blocker. He didn't have the intensity level I expected.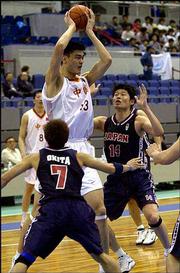 Then, Richardson made a proclamation: The Clippers plan to bet on who on their team will be the first to dunk over Yao.
"Shaq will go bang, bang, and dunk on him," Richardson told reporters in Chicago during Yao's one-time, all-encompassing workout in April. "And then talk bad about him."
The critique was blunt and harsh, but at the same time, refreshing. An American player had finally put a lid on the indifference.
It matters now. The influence of foreign players on the NBA no longer is just a cute story. It is an issue for American players who once thought they owned the game. It is a cultural movement that is increasing the popularity of basketball around the world and one day might rob the United States of its basketball supremacy.
The Houston Rockets will make history Wednesday when they select Yao with the first overall pick in the NBA draft. Yao will become the first foreign player without U.S. college experience to stand atop a draft class.
In addition, two other foreigners are expected to be lottery picks: forward Nikoloz Tskitishvili of the Republic of Georgia and power forward Maybyner "Nene" Hilario of Brazil.
The first round could see as many as eight foreign players selected, with Czech Republic guard Jiri Welsch and Slovenia forward Bostjan Nachbar among the intriguing possibilities.
About 10 of the 29 second-round selections could be filled with international prospects who either will have trouble getting out of their overseas contracts or need time to develop.
They will join the 52 foreign-born players who played in the NBA last season.
"It's a different game now," said Temple guard Lynn Greer, who hopes to be among the 57 players selected in Wednesday's draft. "You can't just say, 'I had a good year in college. OK, I expect to be drafted.'
"Some guy you've never seen or heard of may be in another country playing the game just as well or better than you. It's always been hard to get into the league. Now, it's even harder."
Copyright 2018 The Lawrence Journal-World. All rights reserved. This material may not be published, broadcast, rewritten or redistributed. We strive to uphold our values for every story published.