Eric Bloom is getting used to being with an older crowd on the campaign trail.
The 23-year-old candidate for lieutenant governor recently scouted out the room at an Overland Park candidate forum. He saw a college-aged woman working for Phill Kline's campaign for attorney general.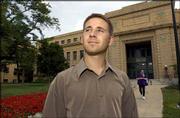 "Other than her and I, there was no one within 15 years of me in the whole room," Bloom said. "It kind of makes me sad."
In an era when many people in their 20s don't even take time to vote, Bloom, a May Kansas University graduate, wants to help run state government.
He's not alone. Another May KU graduate, Kevin Yoder, 26, of Overland Park, is running for the state House of Representatives.
"I'm always surprised how many people leave the University of Kansas to work on a congressional staff," said Al Cigler, professor of political science. "They like the young, enthusiastic people to get involved. Running for office at an early age is more unusual."
Father-son team
State politics have been a topic at the Bloom dinner table as long as Eric can remember.
Dan Bloom was superintendent of the Eudora school district for 17 years. His wife, Carolyn, is a physical therapist who has lobbied for Medicare and Medicaid issues.
"I've followed along and always kept up to date," Eric Bloom said.
His father has long said he would run for governor when he retired. When he decided this was the year, it didn't take long for him to pick his running mate.
"He knows I share almost every political belief he has, largely because I'm his son and I've heard almost everything about the issues from him," Eric Bloom said.
During the campaign, Eric Bloom has been attending meetings and candidate gatherings, both with and without his father. He said many people ask about his age.
"It looks a little unorthodox to have a 23-year-old running for office," he said. "But I think with my sincerest effort, I could do a good job."
The Blooms are considered long-shot candidates in the crowded Republican primary field. But if they were elected, Eric Bloom said, he'd likely serve as secretary of commerce, which is what Gov. Bill Graves' lieutenant governor, Gary Sherrer, has done.
Bloom's degree is in architectural engineering. If nothing else, he said, he figures the campaign will help get his name out for potential employers.
Campus training ground
Yoder wants to make the leap from student leadership to state leadership.
He served as KU's student body president during the 1998-99 school year and was president of the Student Bar Assn. last year. He graduated from law school in May, then moved to the Overland Park legislative district he hopes to represent.
The 20th district now is represented by Gerry Ray, who declined to run again. As of Friday, Yoder was the only candidate who had filed. The filing deadline is Monday.
"It's something I've always wanted to do," he said. "The seat came open in the area I was moving into. The climate seemed right to leap into politics."
Yoder, a Republican, said education is a top priority in his campaign, and he'd support a tax increase for education. However, he said running an efficient state government also is a priority, as is economic development in Johnson County.
Yoder said some people might think a lack of life experiences would make him a weak candidate. He said he thought his education made up for that.
"The law degree helps because you spend a lot of time in the Legislature debating new laws," he said. "Being able to understand the nuances of education helps you be a more effective legislator."
Young apathy
About 38 percent of Americans under 25 voted in the 2000 presidential election, according to the Center for Information and Research on Civic Learning and Engagement. About 64 percent of Americans over 25 voted.
And voting among young adults has become sparser the last 30 years. In 1972, 52 percent of Americans under 25 voted.
Bloom said he thought many young people didn't feel they could make a difference in the political process.
"Politics is a dirty word," he said. "It shouldn't be. Anybody who doesn't feel they have adequate representation should want to get involved."
Yoder attributed the apathy to young adults' busy lives.
"It's hard work being an educated voter," he said.
And if they don't take time to vote, he said, it's no wonder more young people don't run for office.
"A lot of people in my age group are concerned about getting their careers going, raising a family or buying a house," he said. "Your daily life gets so busy, there's not a lot of time to take four or five months out of the year and go to Topeka."
Bloom said young candidates should capitalize on that underrepresentation.
"The younger generation is very underrepresented, and I think it's partly their fault because they don't make things happen," he said. "I hope I can get the word out to enough people to take time and vote."
Copyright 2018 The Lawrence Journal-World. All rights reserved. This material may not be published, broadcast, rewritten or redistributed. We strive to uphold our values for every story published.