Miami — Luis Castillo's 35-game hitting streak is over.
Castillo went 0-for-4 Saturday night and was left on deck when the Florida Marlins finished off a four-run rally in the ninth inning to beat Detroit 5-4.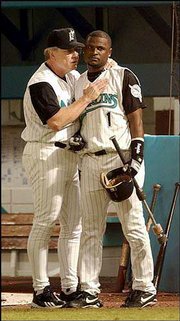 After Tim Raines' game-ending sacrifice fly, Castillo stood in the on-deck circle and slowly pulled off his batting helmet obviously disappointed with the end to the 10th longest hitting streak in baseball history.
Manager Jeff Torborg went straight to Castillo, put his arms around the switch-hitting Dominican and whispered into his ear.
"I was close to having my last at-bat, but the more important thing was to win the game," Castillo said.
Castillo's streak was the longest since Paul Molitor's 39-gamer in 1987 and ended in similar fashion. Molitor was left on deck when Rick Manning hit a game-winning RBI single in the 10th inning to give Milwaukee a 1-0 victory over Cleveland.
Castillo flied out in the first inning, struck out swinging in the third, grounded into a fielder's choice in the fifth and grounded out in the eighth. His first three at-bats were against left-hander Mark Redman. His final at-bat was against right-handed Jose Paniagua.
Hustling down the first-base line, Castillo made his final out a close play. He received a standing ovation before each at-bat, then a much longer one after his eighth-inning out.
Chants of "Louie, Louie" spread across the stadium, and the switch-hitting Dominican popped out of the dugout for a curtain call. He pumped his right hand high above his head as the cheering continued.
"I tried to keep going. ... I don't feel very good right now," Castillo said. "I tried to do what I could for the fans. It's over."
Castillo's streak stands as the longest by a Latin player and the longest streak by a second baseman. His 35-gamer tied two other players Ty Cobb (1917) and Fred Clarke (1895) for the 10th longest of all-time.
Only nine players have had a longer streak, including just two since 1950 Pete Rose (44) in 1978 and Molitor. Joe DiMaggio set the record of 56 games in 1941.
Trailing 4-1 with one out in the ninth, Charles Johnson hit a two-run double. Pinch-runner Homer Bush scored on an error, tying the game. With Andy Fox on second, the Marlins sent Raines to pinch hit.
Fox moved to third on a wild pitch. Raines could have guaranteed Castillo a fifth plate appearance by not swinging the bat taking either a walk or a strikeout. Instead, Raines lifted Juan Acevedo's 2-2 pitch into center field.
Dodgers 5, Red Sox 4
Los Angeles Shawn Green hit a two-run homer, and Dave Roberts drove in the go-ahead run with an infield single as Los Angeles beat Derek Lowe (11-3). Dodgers left-hander Omar Daal (5-3), who missed a turn in the rotation because of biceps tendinitis, allowed three runs and three hits in six innings in his first start since June 11.
Yankees 1, Padres 0
San Diego Ted Lilly pitched a three-hitter and struck out a career-high 11 for his first major league shutout. While Lilly (3-5) gave the Yankees' bullpen a needed rest, New York spoiled the big league debut of Padres right-hander Jake Peavy (0-1) in front of a crowd of 60,021, the biggest in baseball this year. Alfonso Soriano doubled on Peavy's first pitch and scored the game's lone run on Jason Giambi's double.
Orioles 4, Giants 2
San Francisco Marty Cordova hit his third homer in less than 24 hours, and 30-year-old rookie Travis Driskill (5-0) remained unbeaten for Baltimore. Jorge Julio pitched the ninth for his 14th save in 18 chances.
Athletics 10, Reds 3
Cincinnati Barry Zito (10-2) earned his ninth straight win and Olmedo Saenz hit a two-run double and solo homer in his only at-bats, sending Cincinnati to its sixth straight loss. The A's have won six in a row and 14 of 15 overall to catapult them back into contention in the AL West. Oakland is 17-3 in June, best in the majors.
Indians 5, Expos 4
Montreal Bartolo Colon earned his team-leading 10th win to lead Cleveland to victory and end Montreal's eight-game winning streak. Colon (10-4) won his third straight to end Cleveland's four-game losing streak, allowing nine hits and two runs in eight innings.
Travis Fryman hit his seventh homer of the season, tying the game at 2 with a two-run shot in the fourth inning. Bob Wickman pitched the ninth for his 17th save.
Rangers 3, Pirates 2
Pittsburgh Ivan Rodriguez drove in the go-ahead run with a double in the seventh inning and Texas overcame a two-run deficit to beat Pittsburgh. Rodriguez has three of the Rangers' five RBIs in the series, driving in both runs of a 2-0 victory Friday. Texas starter Rob Bell (3-2) fell behind 2-0 after three batters but settled down to get the victory.
Braves 15, White Sox 2
Atlanta Rafael Furcal's three-run homer capped a seven-run fourth inning and Atlanta routed Chicago in its highest-scoring game of the year. Damian Moss (4-2) allowed just two hits in six innings as the Braves improved their interleague record to 11-3 this season. Chipper Jones drove in four runs. Paul Konerko had a pair of homers to account for both Sox runs.
Twins 4, Phillies 1
Philadelphia Pinch-hitter Matthew LeCroy looped a go-ahead double to spark a three-run rally with two outs in the 11th inning for Minnesota. LaTroy Hawkins (2-0) pitched a perfect 10th inning, and Eddie Guardado worked the 11th for his 21st save in 23 chances.
Angels 8, Brewers 2
Milwaukee Darin Erstad had four hits and drove in three runs, leading Jarrod Washburn and Anaheim. Washburn (7-2) struck out a career-high 10 in six innings. He pitched out of several jams, working around eight hits and four walks. The Angels went ahead 3-1 in the second on doubles by Adam Kennedy and David Eckstein and a single by Erstad.
Astros 3, Mariners 2
Houston Jeff Bagwell, out of the starting lineup after the death of friend Darryl Kile, hit a game-winning, pinch-hit single in the 12th inning.
Bagwell, Craig Biggio and Brad Ausmus, among Kile's best friends when he pitched for Houston from 1991-97, did not take batting practice and did not start.
Rockies 6, Devil Rays 5
Denver Todd Hollandsworth ended an emotional day for Colorado with a single in the 11th inning as the Rockies beat Tampa Bay.
Steve Kent (0-2) walked Todd Helton with one out in the 11th, then Todd Zeile singled up the middle to put runners on first and third. Hollandsworth followed with a single just past Tampa Bay first baseman Steve Cox.
Jose Jimenez (2-4) allowed two hits in the 11th to get the victory.
Late Friday game
Rockies 8, D-Rays 7
Denver Larry Walker hit an RBI double during a four-run rally in the ninth inning, then singled home the winning run with two outs in the 10th.
Copyright 2018 The Associated Press. All rights reserved. This material may not be published, broadcast, rewritten or redistributed. We strive to uphold our values for every story published.