When Gary and Michelle Williams moved into a new west Lawrence home in 1995, they figured everything was fine.
It wasn't.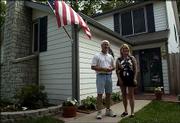 "The inspections were never done," Gary Williams recalled last week. "We didn't know that until we tried to sell it three years later."
When the home was privately inspected prior to sale, all sorts of problems were found there were code violations for the water heater, furnace, toilet and electrical systems. The Williamses checked with the city and found out the required final inspections of the home were never done inspections that should have found the problems before the Williamses ever moved in.
"We had to correct all those things to sell the house," Gary Williams said. The bill was several hundred dollars.
"I was just amazed it hadn't been inspected," he said. "I just assumed."
The Williamses have plenty of company.
Public records obtained by the Journal-World show that since the mid-1990s, thousands of inspections of things like new and remodeled homes, apartment buildings, businesses, water heaters, plumbing and electrical wiring were never finished.
Overworked staff, incomplete work
Reasons for the failure include possible record-keeping errors, an overworked inspections staff and a system that didn't sufficiently track and enforce its own permit system.
City Manager Mike Wildgen said last week that officials already were working to correct the problems.
"Do we have something to be ashamed of? No," he said. "Do we have work that needs to be completed? Yes."
City Commissioner Mike Rundle had a more severe view of the situation.
"What we've done here is negligent," he said. "It's a gross system problem. There's something broken here."
The issue became public last month when Victor Torres, director of the city Neighborhood Resources Department, told commissioners there was a backlog of unfinished final inspections from 2001. He told the Journal-World at the time that 892 final inspections from 2001 permits were incomplete. Torres said last week that aggressive action since last month had whittled that number by half.
But the dimensions of the problem weren't fully available to the public until the Journal-World analyzed a year-by-year accounting of permit records for the past decade.
A Journal-World review of city records revealed the following:
l 1,101 unfinished inspections from 2000, out of 2,989 permits issued.
l 912 unfinished inspections from 1999, out of 2,811 permits issued.
l 715 unfinished inspections from 1998, of 2,853 permits issued.
l 288 unfinished inspections from 1997, of 2,442 permits issued.
l 132 unfinished inspections from 1996, of 2,526 permits issued.
Wildgen said city inspectors would work backwards by year to perform the inspections and close out the permits.
He downplayed public safety concerns posed by the backlog, saying most work had received a series of inspections during construction, even if the final inspection had never been done. The city records confirmed that account.
"If there'd never been any inspections at all, it would be something of higher concern," Wildgen said.
Inspect to protect
The inspection process is intended to protect property owners, both physically and financially.
"The reason we have this in place is to ensure minimal building standards," Rundle said. "It's both for property values, and for public health and safety."
The process seemingly is simple. A contractor gets a permit from the city to do construction or remodeling work build a house, say, or install new electrical wiring. When the contractor is finished, the city is notified to send an inspector to make sure the work is up to code. But if that notification isn't made, the inspection usually won't be done.
Rundle said the process might be part of the problem.
"They put the onus on the builder," he said. "And I think the builders have been happy campers ... I think (the lack of inspection follow-through by the city) has been convenient for them. Inspections are an inconvenience they're happy not to deal with."
Rundle and other officials stop short of saying builders have intentionally avoided inspections.
"I don't think it's been intent on their part," Torres said.
Bobbie Flory, director of the Lawrence Home Builders Assn., said contractors and the city share responsibility for the failure to inspect.
"Definitely, the contractor or subcontractor, when they finish the work, they're supposed to call it in," she said. "That's the rules.
"But when you've got that many outstanding (permits)," she said, "it's the city's responsibility to be aware of that. It's a partnership here."
Contractor Bryan Wyatt, who installs heating and cooling systems (and whose wife, Julie, is an environmental inspector for the city), says the number of open permits shows consumers "are on their own."
"Get the best contractor you can," he said, "because that's the best you can do."
Other reasons
Officials say there are other reasons for the backlog of unfinished inspections.
For one, they say, city inspectors have been overworked. The number of construction inspectors stayed constant in the past decade four inspectors, plus one for "plan review" even while the number of construction permits rose by more than 60 percent, to 3,346 in 2002 from 2,041 in 1992.
In 1996, when the backlog started to rise sharply, the number of inspections soared, to 14,283, from 5,650 the year before. Most permits require multiple inspections during the process.
The number of required inspections has increased every year since, to more then 30,000 in 2001. No senior official involved with inspections now or in 1996 gave a reason why the number increased so dramatically.
"Maybe we followed up more than we had before," said Lynn Goodell, who was director of what then was called Housing and Neighborhood Development. "But that's speculation. I don't remember."
Goodell and Gene Shaughnessy, who was the city's chief building inspector at the time, said they were aware of a growing backlog of unfinished inspections. Shaughnessy, who retired last year, said the department started a program in 1997 or 1998 to remind contractors about their open permits. If the contractor didn't respond, he said, inspectors would place a letter in the permit file and move on.
"The tremendous amount of permits we had, trying to keep up with the up-to-date permits, plus jumping back to take care of the old ones, it was a killer burden," Shaughnessy said. "You can spend some time on it, but you can't spend 24 hours a day on old permits where people wouldn't respond."
The notification program apparently had fallen into disuse by the time Torres took over the department in early 2001. Torres said last week he became aware of the backlog late in the year.
No one exempt
Commissioner Marty Kennedy's home at 725 N.J., built in 1997 by his younger brother John, is on the list of homes that never received a series of final inspections. Kennedy said his brother remembers calling for inspection, and he suspects city inspectors failed to enter their final findings into the records.
"I think everybody was being pushed back then," he said, "and they just didn't get everything finaled out."
Other officials agree that record-keeping may be part of the problem.
When city officials make an inspection, they write down their observations and at the end of the day return to City Hall to record their inspections in the department's computer system. Torres told commissioners last month that inspectors didn't always have time at the end of the day to do the input.
Wildgen said some of the backlog might be reports that were never entered into the system, though he didn't have an estimate how many inspections weren't recorded.
"That's a possibility," he said. "We weren't always as computerized as we are now."
Computers, in fact, are the city's first tool to attack the backlog. Torres now gets a monthly computer printout of aging permits that haven't received a recent inspection. That enabled the department to send out a bulk mailing to contractors this spring, reminding them of their open permits from 2001; that helped cut the 892 open permits from that year in half.
"We will continue to work on those reports," Torres said.
Tightening the system
Last month, Torres asked commissioners for $40,450 in his 2003 budget to buy new software that would automatically alert inspectors to unfinished inspections. Wildgen said he was including that request in his recommended 2003 city budget, due this week. The recommendation also would allow for hand-held computers like parking control officers use to record parking tickets, making it easier for inspectors to enter their work into the central computer.
Increasing the number of inspectors to handle the workload, an option favored by some, is unlikely.
"It's just a situation that, when Lawrence is growing like it is, we needed some help with the budget," Shaughnessy said. "Right now, they could use two, if not three more inspectors."
Rundle said Torres had not done a good job making a case for the inspectors, but still agreed they're needed.
"There's no way this staff can grow as slowly as it has, and keep up with the work," Rundle said.
Wildgen noted, however, that city resources already were stretched thin.
"Every (city) department could tell you there's workload issues they don't get to," he said. "They have to prioritize the list."
That's why some open permits may never be closed with a final inspection, as the regulations require.
"I'm not sure how productive it will be to go back to 1992," Wildgen said. "We'll evaluate that and see."
Mayor Sue Hack agreed.
"I know this department is stretched very thin right now," she said. "To say, 'Go back and do all of these' would be very difficult."
What, me worry?
Owners of uninspected homes contacted by the Journal-World, like Timothy Shaftel of west Lawrence, were generally unconcerned about the lack of final inspections.
"It's a good house," he said. "I'm not worried it will fall down around my ears."
Rundle is concerned the city could be vulnerable to a lawsuit if any uninspected home develops problems that could have been prevented with inspection.
"I think the commissions, past and present, and the staff, are open to major liability," he said.
Assistant City Manager Dave Corliss, the city's director of legal services, said that couldn't happen. Kansas courts, he said, have consistently ruled that cities are not liable for their inspections, whether they've been done or not.
But Wildgen said the city had an obligation to do a better job.
"Every permit, in the long run, an attempt should be made to close the loop," Wildgen said. "You open it, you should close it."
Copyright 2018 The Lawrence Journal-World. All rights reserved. This material may not be published, broadcast, rewritten or redistributed. We strive to uphold our values for every story published.