Master magician, extraordinary escape artist, consummate contortionist. These words describe Harry Houdini, who will appear on a new 37-cent U.S. commemorative stamp to be released July 3.
Houdini became famous in the early 20th century with his feats of escape from locked boxes, body chained with padlocks, and underwater maneuvers. His magical acts pleased young and old wherever performed. His name today remains synonymous with magic and escape.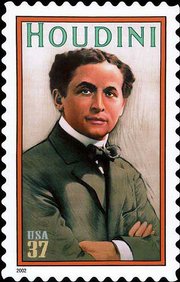 The new stamp features a lithograph poster of Houdini dated 1911. Covering the stamp are chains and a padlock. His name "Houdini" is seen atop the stamp. The denomination "37 cents" is at the bottom left.
Harry Houdini was born in Budapest, Hungary, on March 24, 1874. His family immigrated to the United States and settled in Appleton, Wis. He made his professional debut at the age of nine when he appeared as a contortionist and trapeze artist in a traveling circus.
The new stamp honors the 100th anniversary of the Society of American Magicians. Houdini served as president until his death on Oct. 31, 1926.
First-day-of-issue postmarks are available by mail. You can purchase the stamp at your local post office. Affix the stamp to your envelope, address the envelope and place in a larger envelope addressed to: Harry Houdini Commemorative Stamp, Postmaster, 421 Eighth Ave., Room 2029B, New York, NY 10199-9991. All orders must be postmarked by Aug. 2.
Copyright 2018 The Associated Press. All rights reserved. This material may not be published, broadcast, rewritten or redistributed. We strive to uphold our values for every story published.