The chair-table is a form that has been used since medieval times. An armchair was made with a very large back that was hinged to the back of the arms. The back could be lowered to make a table.
A dual-purpose piece of furniture like this was popular in Europe from the 14th century through the 17th century. The idea came to America by the 18th century, but the furniture piece had a different name and a slightly different shape. It was called a "hutch table."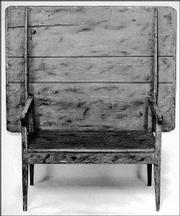 The base of the table was like a box on legs. This formed the seat. The back was hinged and could be lowered to form a tabletop. The form remained popular through the 18th and early 19th centuries.
Country furniture makers liked the form. It was often painted with special graining or other painted decorations. There was a revival of the form in the 1930s, when the convertible chair-table was once again in use. This time, it was made for a small breakfast room. It was usually painted in bright colors with border decorations.
Please help me identify the maker of my china shaving mug. The mark on the bottom is a simply shaped church with "S & T" across the steeple, "RS" within the building and "Germany" below it.
Collectors would say your shaving mug is a piece of "RS Germany" porcelain. The mark was used between 1898 and 1908 by the Reinhold Schlegelmilch porcelain factory, which made tableware and decorative porcelain and figurines from 1869 until shortly before World War II. The factory was in Suhl, Germany, and had a branch in Tillowitz, Germany. That's what accounts for the "S & T" in the mark. Tillowitz is now Tulovice, Poland.
A celluloid political button in my dad's collection is dated 1972, but it says "Remember Brownsville, Discharged Without Honor, 1906." What is this all about, and what is the button worth?
In 1906, a U.S. Army infantry battalion of 167 black soldiers was stationed at Fort Brown in Brownsville, Tex. A shooting near the fort on Aug. 14 was blamed on the soldiers, despite evidence that should have cleared them. So, on Nov. 28, 1906, President Theodore Roosevelt discharged all of the soldiers without honor and denied them back pay and pension benefits. After a later investigation, the discharges were changed to honorable by President Richard Nixon, in 1972. The bill Nixon signed also authorized a pension payment of $25,000 to the only survivor of the battalion. Your button is valued at $350.
I have looked through books on children's dishes, but I haven't found my set. It is a peach-colored tea set with a white Shirley Temple "cameo" on the plastic cups, teapot, sugar and creamer. The small plates and saucers are metal with a fancy "ST" monogram. Can you help?
Your tea set was made by Ideal Novelty and Toy Co., the same company that introduced Shirley Temple dolls in 1934. Your dishes aren't that old, however. They were introduced by Ideal in 1959. A complete set includes a teapot, open sugar and creamer, four plastic teacups, four 4-inch saucers and four 6 1/4-inch plates. If your set is complete and in excellent condition, it would sell for about $150.
I have an old cobalt-blue glass fire grenade. Its seal has never been broken. It still has some of the original fluid inside. Embossed on the bottom are the words "Fire Exten-Harden's Hand Fire Extinguisher Grenade, Patented." The grenade bottle is slightly more than 6 inches tall, and the glass is decorated all over in a diamond pattern. Does it have value?
The value of an antique fire grenade depends on its rarity, color, size, condition, labels and contents. These small glass bottles were made to be broken, so the supply is not large. They were invented in the 1860s and were used until the early 1900s as hand-sized weapons for extinguishing small fires. The solution inside is either carbon tetrachloride or some other salt solution.
Harden Hand Fire Extinguisher Co. of Chicago was one of the two largest fire-grenade manufacturers in the country. Your grenade, with its original stopper and contents, would sell for about $200. Collectors pay a premium for fire grenades filled with their original contents, but carbon tetrachloride is considered unsafe today. Be careful when you handle a full grenade. Some people who put safety first ask experts to empty the contents of their grenades.
Tip
Paper must "breathe." Don't keep it in a sealed package. It will eventually become moldy.
The Kovels answer as many questions as possible through the column. By sending a letter with a question, you give full permission for its use in the column or any other Kovel forum. Names and addresses will not be published. We cannot guarantee the return of any photograph, but if a stamped envelope is included, we will try. The volume of mail makes personal answers or appraisals impossible. Write to Kovels, Lawrence Journal-World, King Features Syndicate, 888 Seventh Ave., New York, N.Y. 10019.
| | | |
| --- | --- | --- |
| | | |
| | Current prices are recorded from antiques shows, flea markets, sales and auctions throughout the United States. Prices vary in different locations because of local economic conditions.Mechanical ad card for Bicycle playing cards, back wheel moves, color, Copper & Hardenburgh Druggists, Kingston, N.Y., circa 1890, 2 1/2 inches by 3 1/4 inches, $95.Schiaparelli perfume bottle, "Sleeping," blue candlestick form, gold flame and lettering, original box, 1938, 7 inches, $175.Fund-raising ticket, "Military Ball in Honor of the Creek Indians," Jan. 8, 1824, Park Theatre, New Orleans, red-and-white card, 4 1/2 inches, $250.Charlie McCarthy bank, his mouth is the coin slot, below his feet is embossed "Feed Me, I Save You Money," original tag and key, 9 1/2 inches, $300.Betty Boop puzzle, Betty at circus, Bonzo her dog and Bimbo the clown, 1932, Wilder Fleischer, set of two, $385.Stevens & Williams cut-glass vase, cylinder form, cut with shore birds and geometric design, signed, 12 inches, $980.Pisgah Forest vase, blue glaze, raised mark, 28 inches, $1,100.Sampler needlework, multicolor top half with alphabet, lower half is Psalm 134, signed Susanna Pace, Oct. 14, 1737, 4 inches by 14 inches, $1,450.Cellarette, slant front, copper tray inside, bottle and glass holders, copper hardware, Lifetime Furniture Co., paper label, 22 inches by 14 inches by 43 inches, $2,400. | |
| | | |
Copyright 2018 The Lawrence Journal-World. All rights reserved. This material may not be published, broadcast, rewritten or redistributed. We strive to uphold our values for every story published.