Abdareh, Iran — A powerful earthquake Saturday flattened nearly 100 remote mountain villages in northwestern Iran, killing at least 500 people, injuring more than 1,600 and leaving thousands homeless.
Most of the known deaths occurred in the town of Bou'in-Zahra in Qazvin province, the epicenter of the magnitude-6 quake, Iran's official Islamic Republic News Agency reported.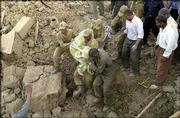 The quake struck at 7:30 a.m. when most people were still in their homes of brick, stone and mud. The structures are prone to collapse in the region's frequent earthquakes, often burying occupants in the rubble.
Among the worst hit places was the tiny village of Abdareh, about 140 miles west of the capital, Tehran. The quake toppled Abdareh's mosque, demolished 40 homes and left at least 20 people dead. The only thing not damaged was the hilltop cemetery.
"I came all the way to say hello to them all, and now I am here to bury them," said Abbas Mohammedi, who had driven from Tehran on Saturday to visit his family. All nine of his relatives in Abdareh died in the quake.
About 45 families live in Abdareh, a village surrounded by hills. A bulldozer driver, his face obscured by dust, said he had retrieved at least 10 bodies from the rubble.
Eight-year-old Qulam Alavi could not stop crying as he stood in front of the home where both his parents died.
"When my father's body was removed from under the debris, his eyes were still open," the boy said.
Desert and hills mark the terrain around Qazvin, 140 miles west of Tehran. The area, inhabited by tens of thousands of people, is one of Iran's industrial centers, home to many small industries producing goods ranging from plastics to medicine and food.
Most people in the region live in villages and work in the small factories or businesses.
A senior Qazvin government official, speaking to state-run television, said 177 bodies were recovered.
Throughout the swath of quake-ravaged villages, soldiers and civilian rescuers dug through the rubble, retrieving the dead and looking for survivors. Work continued after sundown.
The Iranian Red Crescent Society said nearly 100 villages were badly damaged or destroyed.
State television showed images of wailing survivors beating their heads and faces while grieving over bodies of loved ones.
The quake hit the provinces of Gilan, Tehran, Kurdestan, Qazvin, Zanjan and Hamedan and was followed by several aftershocks, the state news agency said. It was also felt in Tehran, but there were no reports of damage in the capital.
Copyright 2018 The Associated Press. All rights reserved. This material may not be published, broadcast, rewritten or redistributed. We strive to uphold our values for every story published.