Cromwell, Conn. — Jonathan Kaye is doing his best to stay out of trouble on and off the course.
Suspended for two months and placed on probation for the season after a confrontation with a security guard, Kaye shot a 5-under-par 65 Saturday to put himself in position for a breakthrough victory.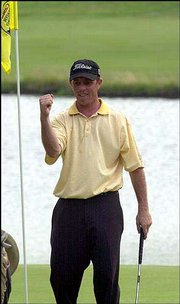 "It would give me a little job security. That's for sure," said Kaye, winless in six full seasons on the PGA Tour. "It would be a dream come true to win on the tour. That's what everybody wants to do, establish themselves and gain the respect of their peers."
That respect won't come easily after his tantrum last year during the Michelob Championship. With security heightened a month after the Sept. 11 attacks, the guard stopped Kaye from entering the locker room without his tour money clip, which doubles as an identification badge. He then returned with the clip attached to the zipper of his pants.
"They're all stories. You could probably get a better answer from the tour on that," Kaye said of the PGA Tour, which he knows does not comment on disciplinary measures.
He had a 13-under 197 total on the TPC at River Highlands to take a one-stroke lead over Scott Verplank into the final round.
"I'll treat it as just another round of golf," Kaye said. "I just need to keep doing what I've been doing."
Verplank, who matched the course record with a 61 in the final round last year, birdied six straight holes on the back nine for a 63. Scott Hoch was two strokes back at 11 under after a 66, and Davis Love III shot a 68 to reach 10 under.
Phil Mickelson played the last three holes in 3 over for a 66, leaving the defending champion five strokes back at 8 under along with Steve Pate (66), Jim Carter (66) and Hidemichi Tanaka (68).
Mickelson, the leader at 11 under after 15 holes, hit into the water on the par-3 16th en route to his second double bogey of the week and dropped another stroke on No. 18. He came up 10 yards short with a pitching wedge on the 160-yard 16th.
"It was just a stock wedge and I just didn't hit it hard enough," Mickelson said.
Paired with Sergio Garcia, Mickelson matched the front-nine record with a 6-under 29 and reached 11 under with a two-putt birdie on the par-5 13th.
"I played really well on the front nine and still had a couple of missed opportunities," said Mickelson, who shot a 61 in the third round last year. "I certainly didn't finish the way I wanted. I'll have to shoot low tomorrow to get myself back in it."
Kaye, playing a new set of Cleveland irons this week, birdied three of the last six holes using precise iron play to set up putts of 4, 6 and 2 feet. He also got up and down for par from 150 yards on the par-4 10th after nearly driving out of bounds.
"Something happened behind me and I kind of lost my concentration and sprayed it out to the right," Kaye said. "It hit a tree and kicked behind a snack bar a yard from out of bounds."
He chipped to the fairway and hit an 8-iron to 4 feet.
Verplank, who has overcome a series of elbow problems and a recent thumb injury, began his birdie run with a 3-foot putt on No. 12 and added putts of 8, 4, 6, 10 and 3 feet.
Copyright 2017 The Associated Press. All rights reserved. This material may not be published, broadcast, rewritten or redistributed. We strive to uphold our values for every story published.