Chicago — Ann Landers, the columnist whose snappy, plainspoken and timely advice helped millions of readers deal with everything from birth to death, died Saturday. She was 83.
The death of Landers, whose real name was Esther Lederer, was announced by the Chicago Tribune, publisher of her column. She died less than two weeks before her July 4 birthday.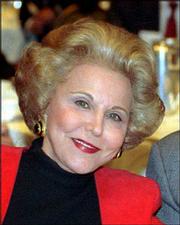 Landers died of multiple myeloma at her Chicago apartment.
Her column first appeared in print Oct. 16, 1955, in the Chicago Sun-Times. In 1993, she was the world's most widely syndicated columnist, appearing in more than 1,200 newspapers worldwide with 90 million readers daily. Her twin sister, Pauline, followed her into the profession as writer of the Dear Abby column.
The feisty, outspoken Landers was a housewife when she won the Sun-Times contest to become the second Ann Landers after the woman who created the column died.
At the end of her career, she was a with-it great-grandmother whose name often appeared on lists of the country's most influential women.
"Eppie Lederer was a great columnist and a wonderful person, said John Madigan, chairman and CEO of Tribune Co. "She helped people with her advice and made important contributions to society through the causes she supported."
Psychology Today once gave her credit for likely having more influence on the way people work out their problems than any other person of her era.
"All the column means to me is an opportunity to do good in the world," she said in a 1993 interview with that magazine.
'I feel the pain'
She attributed her skill to sheer instinct.
"I relate to these people like they are almost sitting in the same room. I feel their pain," she once said.
Her advice was always blunt, often sympathetic and sometimes sarcastic. But her answers, even to some of the silliest questions, were heartfelt.
In her column published in today's Journal-World, Landers gave advice to "Depressed in New Jersey" and "Stu in Florida." And to "Desperate in Des Moines, Iowa," whose husband is keeping his earnings from her, she wrote: "Edgar will not allow you to have any of his income and is planning to sell the house? Something smells rotten to me.
"See a lawyer immediately, and find out how to protect yourself and your children if Edgar leaves you and takes all his assets with him."
Taboo subjects fade
When she began her column, newspaper editors forbade her from talking about homosexuality.
In later years, there were virtually no taboos: In an Oct. 24, 1993, column, for example, she endorsed masturbation or mutual masturbation as a safe, realistic alternative to abstinence for everyone from teens to the elderly.
In a letter published June 16, 1993, a man wrote of being sexually aroused by his girlfriend's young daughters. In a typically pithy response, Landers wrote: "The klinker in your thinker has a pedophile-like twist that could cause real trouble at any time. Please get counseling at once."
She was a great believer in counseling and wasn't too big-headed to seek advice from prominent experts when a reader's problem proved too complicated.
Her column had lighthearted moments, though. Few topics excited readers more than the question of which direction the toilet paper should be hung in.
She made headlines and inspired countless water cooler debates in 1985 when she asked women readers whether they prefer tenderness and cuddling or sexual intercourse. Some 90,000 readers sent in responses, and 72 percent voted for cuddling, she reported.
Reader-columnist trust
"She wrote straight from her heart," said Tribune syndicated columnist and author Bob Greene. "There was absolutely no wall between Ann Landers and her readers. It went straight from her to them.
"I don't think there has ever been the kind of mutual trust and affection between writer and reader as there was with Eppie."
She answered hundreds of letters a day from the office in her high-rise North Side apartment, dispensing thoroughly modern advice by typewriter because she just didn't like computers.
She was based at the Sun-Times until March 1987, when she switched syndication companies and moved to the Chicago Tribune.
The daughter of Russian immigrants, she was born Esther "Eppie" Friedman on July 4, 1918, in Sioux City, Iowa, 17 minutes before her twin sister. When Pauline became Dear Abby, her older sister was so angry they reportedly feuded several years before reconciling.
Landers married Jules Lederer, who helped found Budget-Rent-A-Car, in 1939 in a gown matching that of her sister, who got married that same day.
The Lederers had a daughter, Margo. They divorced in 1975, a decision Landers announced in "the most difficult column I have ever tried to put together."
Copyright 2018 The Associated Press. All rights reserved. This material may not be published, broadcast, rewritten or redistributed. We strive to uphold our values for every story published.