FORT WORTH, TEX. — Whether he's leading his burgeoning church or the nation's largest Protestant denomination, the Rev. Jack Graham's message is simple focus on advancing the kingdom of God.
Graham, senior pastor of the 20,000-member Prestonwood Baptist Church in Plano, Tex., for 13 years, was elected president of the 16-million-member Southern Baptist Convention at the denomination's annual meeting this week in St. Louis.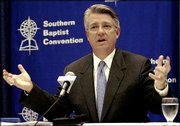 Graham, 51, is among several Texans who were elected to prominent posts at the convention. The Rev. Mac Brunson, senior pastor at First Baptist Church in Dallas, was chosen president of the Pastors Conference. Also, the Rev. Gary Smith, pastor of Fielder Road Baptist Church in Arlington, Tex., was selected president of the executive board, one of the most powerful posts in the denomination. Former Judge Paul Pressler of Houston was chosen first vice president.
The thrust of this year's national meeting is strengthening the family and promoting evangelism. Graham, the father of three grown children, will be the point man.
"Today, Southern Baptists are talking more about the meaning of the kingdom of God, the rule of God in the hearts of men," Graham said. "Jesus continually challenged his church to preach the kingdom. So, we will invite every ... church to be a kingdom church, meaning that we seriously focus of the coming of the kingdom of God on the Earth."
During Graham's tenure, 17,000 have joined Prestonwood, and the membership has helped carry out his vision for far-reaching programs, including sports evangelism, a pregnancy crisis center and a Christian academy. Graham also led Prestonwood from its north Dallas home to a 150-acre campus with a 7,500-seat worship center in Plano. The church has a $17.6 million annual budget.
Graham is known for standing up for his convictions.
In 1994, Graham, who has conservative credentials, rejected the conservative leadership's choice for president, Fred Wolfe. Graham also shepherded the election of Orlando, Fla., pastor Jim Henry for president. And when Texas moderates diverted money away from some denomination-supported programs last year, Graham led a committee that netted about $1.3 million for the Southern Baptist Convention.
Graham's ministry has won the admiration of some moderate Baptists.
The Rev. Charles Wade of Arlington, executive director of the moderate-led Baptist General Convention of Texas, said he respects Graham and will attempt to work with him.
"I want to be very positive about Jack," Wade said. "I think there's a possibility that we can work with him. ... Jack and I have a great personal relationship, and I think we can talk."
Graham said he would communicate with moderates.
"This would not be a good time to separate from the Southern Baptist Convention," Graham said at a news conference after his election. "Rank and file Texas Baptists want to be a part of a worldwide mission effort."
In an earlier interview, Graham said a schism might be inevitable. "But I think that we should continue to love and pray for one another and work together as often as we can for the sake of the kingdom," he said.
Copyright 2018 The Lawrence Journal-World. All rights reserved. This material may not be published, broadcast, rewritten or redistributed. We strive to uphold our values for every story published.