Salt Lake City — Utah Jazz center Greg Ostertag doesn't want anyone to see him as a hero, though later this month he will give one of his kidneys to his ailing diabetic sister.
"I'm just trying to be a brother," he said Monday.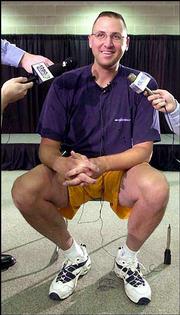 Ostertag's sister, 26-year-old Amy Hall, has had Type 1 diabetes since she was 7 and began having kidney problems in 1999. Her kidneys failed in March, but tests showed Ostertag was a perfect match as a donor.
"I was 6-for-6 on the matches. We're basically twins, except she's 21/2 years younger than me," Ostertag said during a news conference at the Delta Center.
The operation is scheduled June 27 at Baylor University Medical Center in Dallas, where Hall lives. The 29-year-old Ostertag played high school basketball in the Dallas area before going to Kansas University.
"He has never thought twice about it, never looked back, never said, 'I shouldn't be doing this because it could mess up my career,"' Hall told the Dallas Morning News this month.
The 7-foot-2 Ostertag often is criticized by fans and writers around the NBA questioning his competitiveness. That happens even in Salt Lake City because of his $36 million contact and maddeningly inconsistent play.
"Family is important to him. ... Maybe now people will look at Greg in a different light. He never even blinked," Jazz vice president of basketball operations Kevin O'Connor said.
The operation comes two months after Ostertag played well in Utah's first-round playoff loss to Sacramento.
After averaging 3.3 points and 4.2 rebounds during the regular season, he boosted those numbers to 6.8 points and 8.5 rebounds against the Kings and was a strong defensive presence.
In the Game 4 loss that ended the series, Ostertag had 15 rebounds 10 on the offensive end.
"In Sacramento, I know it was killing their fans that I was playing so well," he said. "Then to come here and the crowd gave me a standing ovation when I came out of a game, I haven't had one of those in five years."
Ostertag will be hospitalized for two days after the operation. He said doctors told him he can return to his normal routine within six weeks if there are no complications.
He has been working out to prepare for the transplant and expects to be in basketball shape by training camp.
"I anticipate being back and playing next year, having all my fans who are for me and all my fans who are against me. Hopefully, I'll have Jerry bald by the time he wants to retire," Ostertag said, referring to Jazz coach Jerry Sloan.
But it's not Ostertag's career that is his greatest concern. He's doing the operation for Amy, and he made the decision without hesitation.
"She's tired a lot. She can only work four hours a day," he said. "She's only 26 years old and she's going to bed at 9:30 every night, feeling like she's had a really full day."
His greatest fear, he said, is that her body could reject his kidney.
"I just want her to have a normal life," he said.
Ostertag said Jazz management and teammates have supported his decision since he told his plans to O'Connor in March.
And while team owner Larry Miller said there had been discussions with Ostertag's agent about what the Jazz might do if the transplant impacts his career, he didn't characterize it as a major concern.
"Let's not anticipate a problem. If there is one, we'll deal with it," said Miller, who wouldn't disclose the talks. "I hope nothing bad happens. It's very difficult to reverse something like that."
Ostertag has two seasons and $16 million remaining on a six-year contract.
He's not the first NBA player who will try to return from a kidney transplant operation. Former San Antonio forward Sean Elliott was a recipient, getting a kidney from his brother in March 2000.
Miami center Alonzo Mourning battled fatigue last season in his comeback from a kidney disease that might eventually require a transplant. He was diagnosed with focal glomerulosclerosis in October 2000 and missed 69 games that season.
Ostertag said doctors told him there's "a 3-in-10,000 chance" something could go wrong for his career.
Then he noted that Pete Chilcutt, a journeyman forward who played briefly with the Jazz in 1999-2000, was born with only one kidney, "and he got run over once or twice by Shaq, just like everyone else."
"It's a risk I'm willing to take," Ostertag said. "I love playing basketball, don't get me wrong, but I'm more concerned with giving my sister another 50 years of life."
Copyright 2018 The Associated Press. All rights reserved. This material may not be published, broadcast, rewritten or redistributed. We strive to uphold our values for every story published.