Kabul, Afghanistan — A senior Taliban official said he approached U.S. representatives three years ago for help in replacing the hard-line Islamic leadership but was told Washington was leery of becoming involved in internal Afghan politics, the former official said Sunday.
Mullah Mohammed Khaksar, a former Taliban intelligence chief and later Afghan deputy interior minister, said he met with U.S. diplomats Gregory Marchese and J. Peter McIllwain in Peshawar, Pakistan, in April 1999 and told them he wanted to oust Taliban supreme leader Mullah Mohammed Omar because of his support for Osama bin Laden's al-Qaida terror network.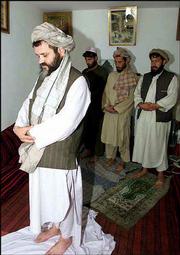 The two Americans promised to contact Washington, Khaksar said. Later, he received a letter which he showed to The Associated Press from Marchese saying the United Sates was nervous about backing Afghan factions because of its experience supporting hard-line Islamic movements during the war against the Soviets.
"We don't want to make mistakes like we made in the holy war," Marchese said in the letter, written in Afghanistan's Pashto language and translated by The Associated Press. "We gave much help and it later went against us."
Marchese added that "my boss is interested" without identifying him by name. However, Khaksar said that was his last contact with the Americans.
Marchese, now posted in Washington, confirmed the meeting but refused to say what was discussed.
The State Department on Sunday said it had "no immediate comment" on Khaksar's comments.
Bin Laden's influence
Khaksar, a founding member of the Taliban, said he contacted the Americans because he feared the Islamic movement had been hijacked first by Pakistan's powerful intelligence agency and then by bin Laden and his al-Qaida group.
Khaksar said he and others in the Taliban wanted to "keep Afghanistan for Afghans" but found themselves marginalized because of bin Laden's influence over Mullah Omar. Bin Laden donated suitcases full of money to finance the Taliban's war-effort against the northern-based alliance led by the late guerrilla leader Ahmed Shah Massood.
Mullah Omar, meanwhile, had fallen under the influence of bin Laden and a clique of Afghan clerics who were graduates from Pakistani religious schools with links to Pakistani intelligence.
"They told him he could be the leader of all the Muslims, bring all Muslims together," said Khaksar, who lives in Kabul. "What were they doing? It wasn't Afghanistan anymore. My thinking was that they would destroy my country."
Pakistan meeting
To meet the Americans, Khaksar journeyed to Pakistan, telling associates he needed medical treatment for a stomach ailment. After a brief stay in Islamabad's Shifa Hospital, he stopped in Peshawar on his way home.
Some low-ranking Taliban friends introduced him to an American teacher at a Christian school, who told him to telephone the Peshawar consulate and mention his name.
Khaksar said he told the Americans that he was worried about bin Laden's Arab associations because "one day they would do something in the world, but everything would be on the head of Afghanistan."
Khaksar said he told the Americans that Mullah Omar's clique could be undermined through political action inside Afghanistan.
"I told them the Taliban militarily are too strong, but politically you can defeat them. I told them it is not something you can do in one or two days, but it can be done," he said.
Copyright 2018 The Associated Press. All rights reserved. This material may not be published, broadcast, rewritten or redistributed. We strive to uphold our values for every story published.