Pratt — Jeanne Anne Schroeder will promote self-defense for women as she prepares to represent the Sunflower State at the Miss America competition this fall in Atlantic City.
The 23-year-old from Hutchinson was crowned Saturday, after making a clean sweep of the preliminary categories. She picked her platform because of an experience she had about two years ago. She came home to find her house being burglarized.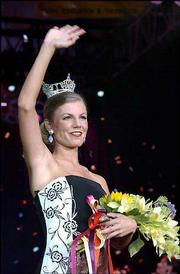 "I was pretty terrified," said Schroeder, who is Miss Chisholm Trail. As a result, she enrolled in a six-week tae kwon do course especially for women. "I love it. I have become very passionate about it."
Besides promoting self-defense for women, she works with schoolchildren, encouraging them to learn safety tips such as "what a stranger is and how they can protect themselves from strangers." And she has created a Web site with her story, safety tips and links.
Schroeder, a Friends University graduate, won both the evening wear and swimsuit competitions on Friday, and placed first in the talent and on-stage knowledge competitions on Thursday. Schroeder is a graduate student at the University of Kentucky.
This year was Schroeder's fifth consecutive year of competing in the Miss Kansas pageant. She was the first runner-up in last year's competition and third runner-up the year before.
"I came into it wanting this to be my year," Schroeder said. "It all came through. I worked so hard."
Schroeder said the pageant was important for her because of the scholarship awards and the opportunity to speak to so many young people. She had won $10,000 in scholarships before this year. The Miss Kansas crown brought another $5,000, and she'll have the chance to win more in the Miss America pageant in September.
She will stay in Pratt and make Miss Kansas appearances while she gets ready for the national pageant.
This year's first runner-up was Kelsey Carver, 23, Miss Sunflower, of Hoxie.
Copyright 2018 The Associated Press. All rights reserved. This material may not be published, broadcast, rewritten or redistributed. We strive to uphold our values for every story published.