EAST RUTHERFORD, N.J. — A third straight title is a near-certainty for the Los Angeles Lakers. The only question is not whether, but when.
Just when it looked as if Jason Kidd might make the NBA Finals competitive, the league's latest dynasty moved within one victory of winning it all. And this time, it wasn't just Shaquille O'Neal doing the damage.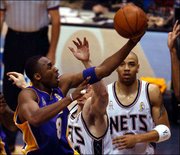 Kobe Bryant had his first brilliant offensive game of the series, Robert Horry hit another clutch three-pointer to put Los Angeles ahead for good, and O'Neal scored 35 points Sunday night as the Lakers beat the New Jersey Nets 106-103 in Game 3.
With a win Wednesday in Game 4, the Lakers will become the first team in franchise history to sweep the NBA Finals no small accomplishment for a team with 13 titles.
"It feels great whenever you have a chance to make history," Bryant said. "As a team we've been through so much, and hopefully we can add to our list of accomplishments."
This was the closest and most entertaining game of the Finals, and in the end the Lakers showed the stuff champions are made of.
When it came time for clutch baskets, big blocked shots and key free throws, the two-time defending champs had enough of each to take a 3-0 lead in the best-of-seven series.
No team has ever recovered from such a deficit to win an NBA playoff series.
"I don't think there is a team that can do that," Bryant said. "We're a confident team and we're playing really well together."
The Nets played well together, too. Even that wasn't good enough.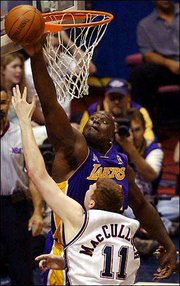 Kidd was outstanding, leading the Nets on a 19-5 run that gave them their biggest lead at any point in the series 86-80 early in the fourth.
But it was Bryant who made the bigger plays down the stretch none more important than his 10-foot jumper over Kidd with 19.1 seconds left for a 104-100 lead. Bryant was double-teamed on the shot, and Kidd even got a hand on the ball before Bryant broke free, turned to his right and hit the bucket.
"It was a matter of just wanting it," Bryant said. "I didn't want to lose possession of the basketball and didn't want to let my teammates down."
Kidd knocked down a three-pointer with 5.2 seconds to cut it to 104-103, and the Nets fouled Rick Fox with 3.5 seconds left. He made both free throws, and Kidd was off-target after dribbling upcourt and launching a 30-footer just before the buzzer.
Bryant scored 36 points, shooting 14-for-23 and scoring a dozen points in the fourth quarter.
O'Neal was 12-for-19 from the field with 11 rebounds, Derek Fisher scored 13 points while going 3-for-3 from three-point range, and Horry and Fox came through at the end.
Lakers coach Phil Jackson tied Pat Riley for the most career playoff victories 155. It took Jackson only 209 games to tie the mark, a winning percentage of .741 compared to Riley's .608.
Kidd scored 30 points and Kenyon Martin scored 26 for the Nets, who knew that their best chance for keeping their title hopes alive rested on them winning this game.
"We did all we could, man," Martin said. "We played our hearts out. We're very deflated. To have it slip away in the last two minutes was hard."
The Nets now need to win four in a row against a team that has only allowed them to have one single glimmer of hope through the first three games.
Kidd provided it, but it wasn't enough.
After Bryant put several nifty moves on Kerry Kittles and made a short jumper for a 73-63 lead, Kidd began taking over.
He scored seven points over the next 1:13, then hit a jumper with 51 seconds left before feeding Richard Jefferson for a dunk. Martin scored on a drive with 1.8 seconds left, tying the game at 78-all.
Kidd opened the fourth quarter with a jumper, then pulled off his sweetest move of the night starting and stopping and darting through four defenders for a floater. Jefferson followed with a fast-break layup off a pass from Kidd to put the Nets up 86-80, completing the 19-5 run.
The Nets maintained the lead they were up as much as 94-87 until Horry hit a three-pointer off a pass from O'Neal with 3:03 left. Kidd fired up a quick three-point attempt that missed, and Bryant knocked down a 22-footer with 1 second on the shot clock for a 100-96 lead with 2:17 remaining.
Kidd answered with a jumper, but O'Neal banked in a 10-footer from a tough angle to restore a four-point lead, 102-98 with 58 seconds left.
Bryant missed two from the line with 42 seconds left it was his only negative moment of the night and Keith Van Horn hit a corner jumper to cut it to 104-102.
That's when Bryant hit the crucial basket one that was so tough to make, and so deflating for New Jersey, that it may just have won the series for the Lakers.
"We've been together too long to fold," O'Neal said.
Copyright 2018 The Associated Press. All rights reserved. This material may not be published, broadcast, rewritten or redistributed. We strive to uphold our values for every story published.