Kansas City, Mo. — It didn't take Raul Ibanez long to remember the last time he won a game with a homer in the bottom of the ninth.
"Any time you get a clutch hit in a key situation to help your team win a game, it definitely sticks in your memory," Ibanez said.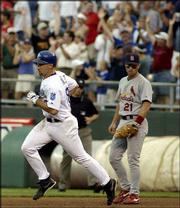 He led off the ninth inning with a home run into the right-field bullpen to give the Kansas City Royals a 3-2 win over the St. Louis Cardinals on Sunday.
He last ended a game with a home run Sept. 26, 1999 against Anaheim. That homer also was a leadoff shot.
Ibanez's second homer of the year, off Mike Timlin (1-3), helped the Royals avoid their first-ever series sweep by St. Louis. It also snapped the Cardinals' six-game interleague winning streak.
"We were able to come out and stop the bleeding today," said Ibanez, whose team was outscored 23-9 in the first two games of the series. "It always feels good to get a win, but it really felt good today."
Roberto Hernandez (1-0) pitched a perfect ninth for the Royals, and manager Tony Pena said Hernandez could have thrown the 10th if needed.
"He only threw six pitches in the ninth," Pena said. "He made some great pitches and got out of there."
Timlin, St. Louis' fourth pitcher, retired the Royals in order in the eighth before giving up Ibanez's homer.
Royals starter Miguel Asencio left after seven innings, his longest outing of the year, with the score tied at 2. He gave up two runs and five hits, with five walks and one strikeout.
"He's maturing fast," Hernandez said. "He's a good young kid, a good listener."
Asencio also threw two wild pitches, the second of which allowed the Cardinals' Albert Pujols to score and tie the game at 2 in the top of the fourth inning.
| | | |
| --- | --- | --- |
| | | |
| | When: 7:05 tonight.Where: Kauffman Stadium.Television: None.Pitchers: Jeff Suppan (5-5) vs. A.J. Burnett (6-5).KC record: 24-36. | |
| | | |
Catcher Brent Mayne tracked the ball down behind the plate and dived back in time to block Pujols, but Pujols jumped over Mayne and then stepped back onto the plate.
Cardinals starter Jason Simontacchi was trying to become the first St. Louis rookie since Rene Arocha in 1993 to win his first five decisions. He was replaced by Dave Veres to start the Royals sixth. Simontacchi allowed two runs and two hits, with two walks and one strikeout.
Simontacchi said he has been bothered for several weeks by what he called a "hot spot" that threatens to turn into a blister on his right index finger.
"I guess maybe the humidity aggravated it a little bit," Simontacchi said. "I wanted to stay in when things are really going your way, you don't want to stop but in the long run, I think this was the smartest choice."
Cardinals manager Tony La Russa said he did not expect Simontacchi to miss a start.
Carlos Febles led off the Royals' seventh with a double and went to third on Mayne's sacrifice bunt, but Steve Kline struck out Donzell McDonald and got Neifi Perez to foul out to first baseman Tino Martinez.
Febles, making his first appearance of the series after sitting out the first two games with a sore back, was 2-for-3 on Sunday. Besides his seventh-inning double, Febles hit a two-run single for the Royals in the second inning.
Placido Polanco's RBI single in the third cut Kansas City's lead to 2-1.
Notes: Simontacchi hit Kansas City's Joe Randa with a pitch in the fourth inning, the second HBP for Randa in as many games. ... Pujols has scored in 12 of his last 13 games 14 runs total. ... Umpire Derryl Cousins, who removed himself from Saturday night's game after being hit on the right hand by a foul tip, was the third-base umpire on Sunday. ... The Royals announced the signings of three draft picks Sunday: LHP Daniel Christensen (fourth round), RHP Stephen Chamberlain (14th) and SS Eric Lonquist (34th). ... A light rain began falling in the fourth inning, prompting the grounds crew to take up a position behind the infield tarp. The rain stopped in the eighth inning and never delayed the game. ... One of the Royals' runs was unearned, the result of an errant pickoff throw to first by Cardinals catcher Mike Matheny.
Copyright 2018 The Associated Press. All rights reserved. This material may not be published, broadcast, rewritten or redistributed. We strive to uphold our values for every story published.