New York — Roger Clemens didn't give Barry Bonds anything to swing at. Instead, the Yankees ace hit him just as he hinted and left San Francisco Giants manager Dusty Baker questioning the pitcher's courage.
"I've got a lot of respect for Roger as a pitcher," Baker said. "What do they call him, the Rocket? Maybe Roger the Dodger, that's good enough."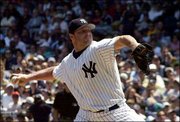 Clemens plunked Bonds with a pitch on his protective arm guard and walked him three times as New York pitched around the slugger all afternoon and beat the Giants 4-2 Sunday.
The tasty matchup of future Hall of Famers the best hitter of this generation facing perhaps its most dominant pitcher for the first time in the regular season was a letdown for fans. Clemens got his 288th career victory while Bonds took only two swings.
Clemens (8-2) came inside with a third-inning fastball that hit Bonds' large plastic arm guard just above the elbow. Bonds stood at home plate for a bit with a sly smirk before heading to first base.
Clemens had said he might throw inside to Bonds and wanted to "even things out" by getting him to take his armor off.
"He's right up on top of the plate," Clemens said. "That elbow guard is almost sticking in the zone, so it's tough."
Bonds did not talk to reporters after the game, but Baker had a comment on Clemens' actions.
"You can be bold over here in the American League and get away with it," he said.
Clemens is scheduled to make his next start on Saturday against the New York Mets at Shea Stadium. It would mark the first time Clemens has to bat against the Mets since beaning Mike Piazza and later throwing the barrel of a broken bat in his path in 2000.
Bonds drew four walks, tying a major league record with three intentional passes in a nine-inning game. He reached base in 11 of 14 plate appearances in the series.
"I'm not here to entertain people, I'm here to try to win ballgames," Yankees manager Joe Torre said. "I said we'll pitch to him, but if there's a base open and the game is in the balance, I'm walking him."
Nick Johnson's two-out, two-run double off closer Robb Nen in the eighth inning gave the Yankees a 3-2 lead, and Rondell White followed with an RBI single. New York took two of three in the interleague series.
Bonds came to the plate with a runner on first and two outs in the ninth, bringing the Yankee Stadium crowd of 55,335 to its feet. But after reliever Steve Karsay fell behind 3-1, he walked Bonds intentionally to put the tying run on base.
"When it got to 3-1, I ran out of guts," Torre said.
Benito Santiago then hit a short-hop shot to third baseman Enrique Wilson, who made a nice stab and got a forceout to end it.
One day after launching a Ruthian home run 20 rows deep into the right-field upper deck, Bonds didn't get much to hit.
The first two times Bonds was intentionally walked, he tossed the guard away after two pitches.
When Russ Ortiz threw high to Jason Giambi in the bottom of the third, plate umpire Joe West warned both dugouts, bringing an argument from Baker.
"We certainly knew what he was going to do. And then when he does it and we get the warning, that's not right," Baker said.
Diamondbacks 7,
Red Sox 3
Boston Junior Spivey hit an inside-the-park home run and Arizona completed a sweep of the team with the majors' best record. Luis Gonzalez, Damian Miller and Erubiel Durazo also hit solo homers, and Gonzalez and Mark Grace each doubled in a run. Spivey hit a ball to left-center field in the seventh that bounced off the wall as center fielder Johnny Damon crashed into it. Left fielder Brian Daubach raced to retrieve it and slipped. His throw was up the third-base line and Spivey missed the plate as he ran by it. But he went back to touch it for his eighth homer before catcher Jason Varitek could tag him.
Cubs 5, Mariners 1
Seattle Sammy Sosa hit his major league-leading 22nd home run and Fred McGriff also connected, and Jon Lieber pitched Chicago past Seattle. Lieber (4-4) blanked the Mariners until Desi Relaford hit an RBI single with two outs in the ninth inning. Lieber then finished, ending a personal four-game losing streak with his first victory since April 25.
Athletics 7, Astros 6
Oakland, Calif. Miguel Tejada hit a tiebreaking home run in the eighth inning and Oakland completed a three-game sweep of Houston. Tejada drove in four runs as the Athletics won their fourth in a row, matching a season best. Ramon Hernandez drove in two runs for the A's, who took advantage of a season-high 11 walks. Houston lost its fourth in a row.
Angels 7, Reds 4
Anaheim, Calif. David Eckstein hit his major league-leading third grand slam and a triple as Anaheim Angels beat Cincinnati. Adam Kennedy added a two-run triple and Scott Schoeneweis (5-4) allowed a run and seven hits in 61/3 innings.
Marlins 6, Twins 3
Minneapolis Derrek Lee homered twice and made a key catch at first base, leading Florida over Minnesota. Mike Lowell drove in three runs and Andy Fox had three hits as the Marlins averted a three-game sweep at the Metrodome. Lee hit a pair of solo home runs, both over 400 feet, to center field. His diving stop with the bases loaded in the fifth inning preserved a 5-1 lead.
Dodgers 2, Orioles 1
Baltimore Odalis Perez pitched eight innings of four-hit ball and Brian Jordan drove in two runs as Los Angeles beat Baltimore. Perez (6-3) struck out a career-high 10, issued only one walk and allowed one run. Eric Gagne, who worked the ninth to earn his 21st save in 22 opportunities.
Phillies 7, Tigers 5
Detroit Brandon Duckworth won for the first time in six starts and Pat Burrell drove in two runs with a double and a triple. Duckworth (3-4) allowed one earned run and struck out six. He pitched six innings, allowed seven hits and didn't walk a batter.
White Sox 13, Expos 2
Chicago Magglio Ordonez drove in six runs to tie a career high, leading Mark Buehrle and Chicago over Montreal. Ordonez had three hits two doubles and Jose Valentin homered as the White Sox offense finally opened up. Chicago averaged three runs in its previous 13 games, and hadn't scored more than six runs since May 24.
Indians 8, Mets 3
Cleveland Rookie Ryan Drese shut out the Mets for 52/3 innings and Omar Vizquel had two more RBIs as Cleveland salvaged the finale of a three-game series.
Blue Jays 3, Rockies 2
Toronto Rookie Joe Lawrence's sacrifice fly capped a two-run rally in the bottom of the ninth inning and Toronto beat Colorado to complete a three-game sweep. The Rockies had scored only one run in the series before pinch-hitter Benny Agbayani's two-out, two-run single in the ninth. But the Blue Jays came back to win their fourth in a row.
Padres 9, Devil Rays 6
St. Petersburg, Fla. Randy Winn homered and doubled three times and Julius Matos hit his first major league home run and drove in four runs. Matos had a three-run homer in the second in just his 11th big league at-bat and added a fourth-inning RBI single.
Braves 9, Rangers 3
Arlington, Texas Javy Lopez drove in four runs, one more than he had in his last 19 games, and Atlanta extended its season-best winning streak to six games with a win over Texas. Vinny Castilla had two RBIs and scored two more runs to help the Braves become only the second NL team to sweep a series in Texas.
Copyright 2018 The Associated Press. All rights reserved. This material may not be published, broadcast, rewritten or redistributed. We strive to uphold our values for every story published.