Dan Gibbons drives about 2,000 miles a month in the "Porcupine," Verizon Wireless' nickname for a Ford Taurus station wagon bristling with cell phone antennas that sprout from the roof like quills.
Canvassing Florida's gulf shores and west coast, Gibbons is Verizon Wireless' "test man," the real-life version of the character in a TV ad campaign who travels endlessly making sure that calls go through no matter the locale.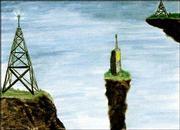 Unlike the ads, Gibbons offers a candid message as he checks the signals for Verizon and seven competitors.
"Every cell phone carrier is going to drop a call," said Gibbons.
That's probably not what the cell phone-using public wants to hear, and it's not what phone companies like to promote when trying to lure new customers. But it probably doesn't surprise callers frustrated by interrupted calls, dead spots, static and other problems.
"A lot of people don't understand the technology and the way it functions," AT&T; Wireless spokeswoman Lisa Burby said. "We will never be able to guarantee 100 percent service, 100 percent of the time."
Yet, none of the problems is preventing millions of people from signing up for cell phone service. The number of users has more than doubled since 1998 to 132 million in the United States, according to the Cellular Telecommunications and Internet Assn.
Driving the growth are convenience and lower costs, with the average cost per minute dropping from 56 cents in 1995 to 14 cents last year, according to market researcher J.D. Power and Associates.
"That's creating lots of competition between carriers (to offer) lots of plans to meet lots of needs," said Travis Larson, a spokesman for the cellular association.
And a lot of consumer confusion, free minutes by the bucket, different calling plans, fancy phones and promises of more services ahead.
Is anyone there?
Debbie Diesing needs a cell phone for her work as a Realtor. But she has learned she can't rely on it. If she's in her home office, she has to go near the window, or maybe outside, to talk. The phone also has failed to ring and notify her of messages.
"This is the worst ever," Diesing said, speaking over the old-fashioned wired phone in her home. "My list of complaints has to be a mile long."
She has complained to Sprint but hasn't gotten far. Previously, she had used Aerial, which became part of VoiceStream. Aerial worked fine, but Diesing wasn't happy with VoiceStream's customer service and billing.
A number of factors get in the way of cell reception: distance between cell towers, terrain, tall buildings and the concrete, steel and glass in buildings. Large bodies of water also cause problems, so losing calls while driving across bridges is not unusual.
"A wireless phone is nothing more than a fancy radio," Larson of the cellular association said. "Just like the radio in the car loses its signal when in a parking garage or on the wrong side of a mountain, wireless phones are susceptible to the same law of physics."
A need for more towers
To demonstrate some of the problems, Gibbons, the Verizon tester, drives to a reported problem area for callers in St. Petersburg, Fla. His equipment shows a good signal, with a cell tower nearby.
Gibbons has eight phones in his car, each from a different carrier, mounted in a case behind the back seat. Each phone is programmed to make a 2 1/2-minute call, hang up, then redial. A readout for each company's signal is shown on a computer set up in the front.
"We use this as a barometer on our network to see where we're good and not so good," Gibbons said. "It's a good benchmark for your system, but it also shows how you do against the competition."
In nearby areas of St. Petersburg, the signal remains good, but he points out that it may not be enough for someone in a house. For a better signal, a tower would be needed nearby. However, a growing number of neighborhoods and communities have been fighting plans to put cell towers in their back yards.
Even with the competition, the cell phone providers cooperate on at least one thing: They share space on cell towers for their antennas. Each tower has a range of 3 to 5 miles for its signal.
The CTIA says the wireless industry spends 40 cents of every dollar earned on its networks.
That built an average of 55 towers a day between June 2000 and June 2001. Still, it's not enough, and it takes up to nine months from the time a company proposes a tower until it's built, Gibbons said.
"A cell tower can handle only so much capacity," he said.
Copyright 2018 The Lawrence Journal-World. All rights reserved. This material may not be published, broadcast, rewritten or redistributed. We strive to uphold our values for every story published.