Initially, Jeff Mason was optimistic after he was laid off from a Raleigh, N.C., financial software company in February 2001.
He knew the job market was tight, but still figured it would take him only about two months to find a new job. After all, he had nine years' experience in computer networking, and companies, no matter how bad the economy, need to keep their systems up and running.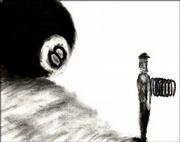 He got busy sending out rm averaging 50 a week online.
"I tried to make finding a job my full-time job," says Mason, 45, who lives near downtown Raleigh.
When two months stretched to seven, Mason lost his zeal. He lowered his salary requirements and received certification as a Cisco Network Associate. No result. It got harder to go through the morning routine, harder to get out of bed, harder to send out all those rmeach week.
"I got extremely depressed," Mason says.
Networking helps
Losing a job can be devastating at any time, but the layoffs of the past year, coming as they did after a boom when many workers could name their own price, have been particularly hard.
"It was so hot for so long, that people never thought this could happen," says Jim Brumby, a psychotherapist at Cary, N.C., Counseling Center.
It was especially hard for those let go from positions of power, where they grew accustomed to getting calls returned and making things happen. Now they struggle with feeling invisible as their job inquiries are ignored.
"Many people come to me for help with their rm but what they really need is emotional support," says Sharon Cox, owner of Career Direction & Rmriting of Cary.
To help manage the raw emotions associated with being unemployed, some laid-off workers seek support through churches or other networking groups. Others rely on encouragement of friends and family. But many, according to career counselors, try to ignore these feelings by focusing harder on their job search or other projects.
"Depression is something that most people don't want to talk about," says Nick Verna, who runs a career transition group at the St. Michael the Archangel Catholic Church in Cary.
"I tend to keep everything inside," Mason says. "It's difficult to talk to people about it because they are wondering why you haven't found a job yet."
He is trying to combat the depression. He paints, and is developing a Web-audio product that he hopes to sell to radio stations.
Family hurting
Mason is luckier than some. Many find their personal relationships strained after a prolonged period without a job. Anger and frustration start to color their day-to-day lives; money worries affect other family members.
Before Raoul Lee was laid off from Lockheed Martin's Raleigh facility, he was making $80,000 as an electronic commerce specialist. His wife, Chyna, stayed home with their daughter and son, who is attending college.
She now works two part-time jobs, and Lee, 55, who has filed a race and age discrimination complaint against Lockheed with the Equal Employment Opportunity Commission, is watching his unemployment benefits and savings shrink. Lee and and his wife have cut spending and often have to say no to their children.
He recently had to turn down his daughter's request for a dress for the prom and to cancel her birthday party.
"It's hard when your child comes to you and says, 'Can I have ...' and you know you don't have the money," Lee says.
The effect on his daughter has been easy to see, he says. There have been fights at school and problems with teachers. Lee understands what she's going through. His world has been turned upside down, too.
"I've been thinking about going to a psychologist, but then that would be another bill," he says.
As for job prospects, Lee says he has sent out more than 200 rmbut has had only one telephone interview with a company in Jacksonville, Fla.
"In most cases, you are lucky if you get someone saying they received your rm Lee says.
Saddening silence
Joe Wasz understands the sentiment. What really gets him down is the silence.
"It's very different to look for work today because you don't have the ability to talk to a person," Wasz says. "I try to follow up with a phone call, but my feeling is they are not paying any attention to you."
Wasz fought the depression by joining the St. Michael's group a week after his layoff in January from Computer Sciences Corp. Wasz, who was one of the El Segundo, Calif., company's Nortel account executives, worked out of Nortel's Raleigh offices.
Wasz says he has even tried to drop rmoff personally, but receptionists have been told not to accept them.
One company also rejected his offer to work pro bono. "It's very frustrating when you can't even give your services away," Wasz says.
But he isn't giving up. In addition to St. Michael's, he joined a networking group, and now he and some buddies from that group have decided to become more aggressive in their job hunt. Their plan is to pair up and schedule meetings with executives at companies in the Triangle to try to learn their employment needs. If any member of their network matches that company's needs, the group will try to arrange an interview.
Wasz's approach, particularly the networking, career counselors agree is the best antidote to depression. They advise people to be proactive if they want to overcome depression and ultimately get a job.
Copyright 2018 The Lawrence Journal-World. All rights reserved. This material may not be published, broadcast, rewritten or redistributed. We strive to uphold our values for every story published.