Jonathan Becker spent about an hour Saturday with Katherine "Lani" Oglesby at the Douglas County Jail.
"She said she'd talk to me because I have blue eyes, and the deputy who was standing there had blue eyes," said Becker, a Lawrence attorney defending Oglesby against charges she disturbed the peace, assaulted a police officer and assaulted a jailer two weeks ago.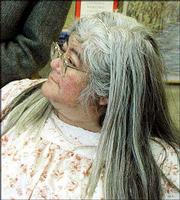 Oglesby explained to the attorney how she'd met actor-comedian Robin Williams in November 1975 at the Lawrence Interdenominational Nutrition Kitchen. They married and divorced, she said.
Oglesby, 55, also said she's 10 months pregnant, a wealthy heiress and a twin. She recalled being kidnapped three different times.
On Wednesday, Becker asked Douglas County District Judge Michael Malone to order Oglesby sent to the correctional unit at Larned State Hospital for a mental evaluation. Malone agreed.
Oglesby is expected to be taken to Larned State Hospital within the next few days. Until then, she remains in jail.
Her presence there, say most of those involved with the case, is a prime example of how the system often fails when it comes to dealing with those who are poor or mentally ill.
"She's schizophrenic," Becker said. "I think it's pretty obvious and I've been told that she stopped taking her medication some time ago. This has been coming on for some time."
Those who know Oglesby said her mental state had deteriorated during a period of weeks but that apparently nothing could be done to stop the spiral that now has her headed to an institution for the criminally insane.
"The problem we have here is that our safety net for people like Katherine is dependent upon their stepping forward and saying 'I've got a problem, I need help.' Unfortunately," Becker said, "someone in her condition isn't thinking that clearly."
Outspoken advocate
Oglesby is known to many as an outspoken, often confrontational advocate for the homeless in Lawrence. She started and has remained a driving force behind the annual free community holiday dinner on Christmas Day at First United Methodist Church, 946 Vt.
News of her troubles saddened those who know her.
"She's sure done a lot of things for other people in Lawrence," said John Thompson, a head chef at Free State Brewery, 636 Mass. "I guess it's time now for the people of Lawrence to see what they can do to help her."
Thompson said he'd helped Oglesby plan and prepare the holiday dinner for seven or eight years.
"She's one of those people who's always ready to help," he said. "If she's not back in time for this year's dinner, she'll probably plan it from (Larned State Hospital) if she can get to a phone. Even if she's not here, she'll make it happen."
Becker said he expected Oglesby to be at Larned State Hospital for at least six months.
"I'm afraid this has been a long time coming, and it's going to take a long time to get her stabilized," he said.
"At this time and in her condition, Larned is the best place for her."
Felony charges
Oglesby's case could not be referred to Bert Nash Community Mental Health Center, Becker said, because she is charged with a felony.
Under state law, a person facing criminal charges and suspected of being mentally ill is to be sent to either Larned or Osawatomie state hospital.
Those charged with a misdemeanor offense may be referred to Osawatomie State Hospital, but for those charged with a felony, Larned State Hospital is the only facility available.
At Larned State Hospital, Supt. Mark Schutter said confidentiality policies prohibited him from discussing Oglesby's case.
But in general terms, Schutter said, "It's a very normal thing for someone who's dealing with persistent and chronic mental illness to need occasional hospitalization for the sake of being able to stabilize themselves."
He added, "I hope the public will find the kindness and compassion to educate itself about mental illness and to realize that we're talking about people who really have a lot to offer their community."
Copyright 2018 The Lawrence Journal-World. All rights reserved. This material may not be published, broadcast, rewritten or redistributed. We strive to uphold our values for every story published.