Washington — A hydrogen-powered car completed a cross-country trip Tuesday, a first-of-its kind journey that promoters say proves the cleaner-burning fuel can be a viable alternative to gasoline.
Fuel cell vehicles won't be mass produced for at least eight years under optimistic predictions, but DaimlerChrysler says the trip by its NECAR 5 vehicle shows the promise of fuel cell engines.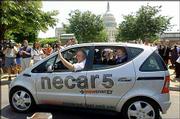 Fuel cells can run on hydrogen or other fuels, such as ethanol, methanol and gasoline, that can be converted into hydrogen. Hydrogen is combined with oxygen from the air in a chemical reaction that produces electricity that powers the vehicle.
Pure hydrogen-fed fuel cells produce only water no harmful emissions but hydrogen is a flammable gas that poses safety questions, especially when crashes occur, and engineers continue work on safe onboard storage systems. Those using other fuels pollute less than gasoline engines but have some emissions and produce less power than pure hydrogen.
The NECAR 5 "New Electric Car, Fifth Generation" is a subcompact Mercedes-Benz A-Class that ran on methanol converted to hydrogen. Since methanol is not available at the corner gas station, it had to be delivered to points along the route for refueling every 300 miles.
The trip began on May 20 at the Golden Gate Bridge in San Francisco and spanned 3,262 miles, which DaimlerChrysler says is a record for a fuel cell vehicle traveling on public roads. Traveling time was 85 hours over a span of 16 days, an average of about 38 mph, but the car reached speeds of more than 90 mph.
Copyright 2018 The Associated Press. All rights reserved. This material may not be published, broadcast, rewritten or redistributed. We strive to uphold our values for every story published.