Los Angeles — Kazuhisa Ishii has made winning in the major leagues look easy.
Ishii shrugged off a home run by opposing pitcher Miguel Batista and became the first Dodgers pitcher in 17 years to win nine of his first 10 decisions as Los Angeles beat the Arizona Diamondbacks 6-3 Sunday.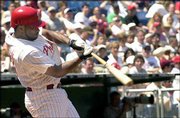 "Pitching is a lot of little things. But at this time, I'm not too sure about an explanation," Ishii said through a translator. "I just hope that I can improve with every game I pitch."
Ishii's only defeat came on a two-hit shutout by Jeff D'Amico of the New York Mets on May 15 at Dodger Stadium. Bob Welch started 9-1 in 1985 and helped lead Los Angeles to a division title with a 14-4 record despite missing the entire month of May because of a sprained elbow ligament.
Ishii allowed two runs and five hits over six innings, including Greg Colbrunn's solo homer in the fifth. The left-hander struck out six, walked five and worked with runners on base in every inning.
"When I go out there, the No. 1 thing I'm thinking about is a good pitching performance," Ishii said. "The No. 2 thing is keeping the number of runs low and hope to win for the team."
Ishii has walked 44 batters in 68 innings, and no fewer than three in any outing a distressing trend that has manager Jim Tracy and pitching coach Jim Colborn looking for answers.
"I'd like to see him pitch a game where he dominated, but you can't dominate a game with early control problems," Tracy said. "We're discussing that with him constantly. I really feel like that is what's keeping this guy from dominating some of the games he's pitched.
"There's been situations in the early part of the game when he sets the stage for the opposition, but then is able to make a great sequence of pitches to a hitter to wiggle out of those scenarios."
One of those came in the third inning, when Ishii escaped a bases-loaded jam by retiring Jose Guillen on a double-play grounder.
"If it happened one, two or three times, you'd say it's just a coincidence. But it seems to be his pattern," Dodgers first baseman Eric Karros said of Ishii. "He likes to put everybody on edge and then work his way out of it. So far he's been successful at it, so we're not going to complain."
Phillies 18, Expos 3
Philadelphia Starting pitcher Robert Person drove in seven runs with a grand slam and a three-run homer to lead Philadelphia to a rout of Montreal. Pat Burrell hit a three-run homer and an RBI single in a 10-run first inning for Philadelphia. Burrell finished with three hits and five RBIs, Bobby Abreu had four RBIs, and Marlon Anderson had three hits and three runs scored. The Phillies, swept in Montreal last weekend, took two of three to win their fifth consecutive series at home.
Reds 5, Braves 1
Cincinnati Elmer Dessens pitched seven shutout innings and Barry Larkin sparked a late rally with a three-run double off Damian Moss (2-2) to lead Cincinnati.
Pirates 5, Cardinals 2
St. Louis Abraham Nunez drove in three runs, including a tiebreaking RBI single in the seventh inning that led Pittsburgh. With the score tied at 2, Keith Osik led off the seventh with a single against Matt Morris (7-4). After Pokey Reese hit into a fielder's choice and Chad Hermansen walked, the Pirates pulled off a double steal. Nunez then slapped a single between shortstop and third base, giving the Pirates a 3-2 lead.
Cubs 4, Astros 2
Chicago Matt Clement pitched 72*3 strong innings, and Moises Alou hit his first homer in a month to lead Chicago. Clement (4-3) allowed two runs, five hits and two walks. He struck out six. Antonio Alfonseca gave up an RBI single to Lance Berkman in the eighth, but got four outs for his ninth save in 10 chances.
Marlins 7, Mets 3
Miami Preston Wilson drove in two runs with a homer and a triple, and Florida sent Al Leiter to an early shower for the second time in a week.
Brewers 4, Padres 3
San Diego Jeffrey Hammonds hit a tiebreaking homer leading off the eighth inning, and Milwaukee beat San Diego to complete a three-game sweep. Hammonds sent an 0-1 pitch from reliever Steve Reed (1-2) into the left-field seats for his fifth home run of the season, giving the Brewers their first sweep of San Diego since joining the National League in 1998.
Giants 9, Rockies 2
San Francisco Barry Bonds hit his 586th home run to tie Frank Robinson for fourth place on the career list, and San Francisco beat Colorado. Bonds hit a high-arching solo shot, driving a 3-2 pitch from Brian Fuentes into the right-center bleachers in the seventh inning for his 19th homer of the season, matching Chicago Cubs slugger Sammy Sosa for the major league lead. Benito Santiago added a three-run homer.
Copyright 2018 The Associated Press. All rights reserved. This material may not be published, broadcast, rewritten or redistributed. We strive to uphold our values for every story published.