Memories of the heat of aerial combat came flooding back this week to 85-year-old Halsey Hines during a visit to the Lawrence Municipal Airport.
The stimulus: a stubby, Grumman Wildcat F4F-3 fighter plane parked at the airport.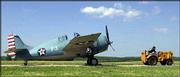 "I wanted to get right in and fly it," Hines, of Topeka, said Friday. "I think I still could."
During the height of World War II, Hines flew Wildcats off the deck of the small U.S. escort aircraft carrier, the Manila Bay, in the Pacific Ocean. The Wildcat, he said, served him well during engagements with Japanese fighters or when strafing their ships with his plane's four .50-caliber machine guns.
"It was easy to fly," Hines recalled. "You could do anything with it."
The Wildcat will be among many planes on display today during the airport's open house. The old fighter is owned by Steve Craig of Lawrence, a collector of classic airplanes. His Wildcat has a colorful history of its own.
It is thought to be the only one of its kind in good enough shape to be flying. Craig hasn't flown it yet, but will after some additional mechanical work is completed. After its last combat mission, the plane was used by Navy pilots in training. In the mid-1940s, a pilot crashed the plane into Lake Michigan during flight qualifications.
There it stayed, some 200 feet below the surface, until it was located by sonar and brought to the surface in 1991. A friend of Craig's owned the plane and restored it to operational status in 1994. Several weeks ago Craig obtained the plane by trading two antique planes he owned for it.
Restoration of the plane was made easier because there was no oxygen at the bottom of the lake, and therefore, no corrosion.
"The tires still had air in them and the controls still worked," Craig said.
By the time Hines went to sea on the Manila Bay, many of the F4F-3s were being replaced by a faster version, the F6F Hellcat. Also being made were newer F4F/FM-2s, made by General Motors. There are still seven or eight GM FM-2s flying today, Craig said.
Hines, whose brother Jay Hines lives in Lawrence, mostly flew FM-2s, he said. He doesn't recall shooting any Japanese planes out of the sky.
"I shot one up, but it was just taking off," he said. "There may have been others, but I never could confirm it."
But the Wildcat could hold its own against Japan's famous fighter, the Zero, Hines said.
"They (Wildcats) weren't real fast, but they were maneuverable," he said. "The Zero was faster. We just outsmarted their pilots."
Hines, who grew up in Scott City, said he had always wanted to be a pilot. He joined the Navy in 1939 and learned to fly in a biplane.
"That plane was so unstable I could stick my arm out to the side and it would tip that way," Hines said.
Hines trained other pilots before he saw combat himself. He said he retired from the Navy in 1960 because "I was tired of working for admirals and pretending to have something to do."
The F4F-3s could reach a top speed of 330 mph, Craig said. The later Hellcat increased that to 385 mph.
"It is quite a plane," Craig said. "It is a tribute to the men and women who built and flew them."
Hines said he was never sure just how fast the Wildcats he flew could go.
"I never flew one straight and level," he said. "I was usually in a dive or in a climb."
Copyright 2018 The Lawrence Journal-World. All rights reserved. This material may not be published, broadcast, rewritten or redistributed. We strive to uphold our values for every story published.