Loren Baldwin would like to pursue a career in farming, but knows he won't.
Baldwin said nothing would suit him better than to spend his days on his family's farm in western Douglas County. But the Kansas State University student is planning on spending them in a high school classroom teaching students about agriculture rather than practicing it.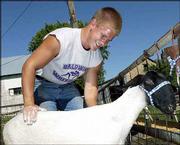 "My heart and soul will always be out here on the farm, but you just can't make a living out here," said Baldwin, 21, a Lawrence High School graduate who is now studying to be a vocational agriculture instructor. "I want to farm for a living, but I also want to make a living."
Baldwin has decided his career path, but many of Douglas County's young farmers have not. This week's Douglas County Free Fair will be like a convention for teen-age farmers who are faced with deciding what their future on the farm will be.
Few future farmers
About 450 youths, ranging from first-grade students to high school seniors, will take part in this year's Douglas County Free Fair. Douglas County Agriculture Extension Agent Bill Wood estimates about 20 of them are in their final year of the 4-H program and are faced with the question of what they will do after high school graduation.
The numbers indicate that farming isn't at the top of many lists.
"The reality of the world today is that a pretty small percentage of them are probably going to end up on the farm," Wood said. "Some of them might have a little 40-acre, part-time farm. But out of those 20 kids a year that leave the program, if one of them ends up making their full-time living on the farm, that would be about the most you could expect."
A state report confirms the trend.
The Kansas Department of Human Resources' latest Occupational Outlook Report estimates the number of agriculture workers in the northeast Kansas region, which includes Douglas County, will decline 14.5 percent by 2008. That means 1,470 fewer people in the region will be making their living off the land. Statewide, 9,500 fewer people are expected to be employed in the industry, a decline of 15.4 percent.
The report doesn't surprise many Douglas County 4-Hers. They said it wasn't from a lack of desire but rather a lack of money.
"I like farming," said Tom Wilson, 18, who lives on his family's sheep ranch near Baldwin. "It has taught me a lot growing up. It has taught me good values and responsibility, but I just think I can make more money going into a different field."
Wilson plans to become an electrician and will attend Pittsburg State University this fall.
Clint Hornberger sympathizes with Wilson.
For most of his life he's gotten up at 4 a.m. to help his family milk their 85 dairy cows near Baldwin. He helps them again at 4:30 p.m., and said there were weeks where he might put in 90 hours at the operation. But yet he is struggling with the decision of whether to leave the farm.
"What am I going to do? That's a very good question," Hornberger, 19, said. "Personally, I would love to keep doing what I'm doing but I keep coming back to the fact that there are so many other jobs out there that don't require near as much time or labor, and in general, pay a whole lot more."
Hornberger has decided to attend Kansas State University this fall and major in agriculture economics.
Giving it a shot
David Metsker may be this year's one.
The 19-year-old who graduated last May from Lawrence High School is in his final year of the 4-H program, but said he doesn't expect this to be his last year on the farm.
He plans to attend Fort Scott Community College for a couple of years. But when he earns a degree, he plans to return to his family's farming operation near Lone Star Lake.
"Farming is what I want to do," Metsker said. "That's all I've ever wanted to do."
But he goes into it with his eyes wide open. He knows there are plenty of challenges.
"I'd sure like to see things change some," Metsker said. "I'd like to see grain prices go up and equipment prices go down. And I'd like to be able to change the weather, but you're just kind of along for the ride on that."
Hornberger said the biggest challenge he saw might not be one of prices but of attitudes.
"I think the root of the problem is that society doesn't realize that they need farms," Hornberger said. "Even if you are vegetarian, you still have to have a farm. I don't think people realize how necessary it is. It would be nice if we got back to some of our old-fashioned values."
Douglas County farmers face additional challenges, according to Mark Flory, a 17-year-old LHS senior. The biggest one may be the ever-growing presence of the Lawrence city limits.
"It is getting tougher and tougher around here to farm because land prices keep going up," Flory said. "As we become more urban the land becomes more expensive."
Flory said his first choice would be to stay on his family's small-scale swine farm, but he realizes that the operation isn't big enough for him to make a living.
Metsker admits he probably is in a better situation to continue farming than most. His family's operation, which encompasses about 2,000 acres, is large enough to absorb him. He knows farms of that size in Douglas County are becoming few and far between.
Without available land and equipment, start-up costs can be high. Baldwin said he figured that it would take the average individual at least $500,000 in start-up costs and that's assuming the farmer used all rented ground rather than trying to buy the land in Douglas County. As for the payoff, a report compiled by K-State's Department of Agriculture Economics and the Farm Management Assn., showed the average farm in Douglas County in 2000 had a net income of $12,400. Since 1993, the average has been $28,500 a year.
"I have a couple of friends who want to do it, but they haven't been able to figure out how they're going to do it," Metsker said. "It would be pretty much impossible to start a farm from scratch."
"But for me, I feel pretty good that I'm going to give it a shot. I don't know what else I would do."
Tomorrow's farmers
The decline in interest to farm has Hornberger wondering whether there will be enough people willing to do the necessary jobs in the future.
"I am kind of worried about the future," Hornberger said. "It kind of makes me wonder who is going to farm. I think it will be interesting to see what happens in the next 20 years."
Wood predicts farming will be around for many years, but the industry will change.
"There will always be enough farmers, in my opinion," Wood said. "One way or the other somebody will grow the food for us. But we're seeing the trend now that probably more and more of our food will be produced by corporate entities in the future."
However, Woods said he believed there still would be room for family farms. Despite its challenges, Wood said agriculture seemed to have a pull that could be hard to escape.
"You are providing food for people, and that can be awfully satisfying," Wood said. "It's not like you are making something people don't need and then trying to get them to buy it.
"A lot of people choose this line of work because they're outside and they're working with nature and they can see what they are producing. The Bible talks about sowing and reaping, and there's still something about it that makes you feel good."
Copyright 2018 The Lawrence Journal-World. All rights reserved. This material may not be published, broadcast, rewritten or redistributed. We strive to uphold our values for every story published.