RIVER FALLS, WIS. — Trent Green insists confidence was never the problem.
Well, then, what was? Did the rust from playing only sparingly since the 1999 exhibition season cause so many bad passes last year in his disappointing first season in Kansas City?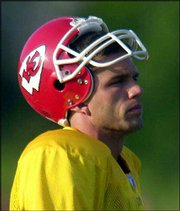 That was one popular theory among displeased fans.
Another was his left knee, which had undergone a round of surgeries since 1999. Was it not yet quite right? Was it causing him to be tentative when he planted and threw?
Or were the wide receivers the source of the trouble? Drafted and developed by a previous staff for a different kind of passing game, they often looked slow and plodding or raw and inexperienced or all four, entirely unsuited to Vermeil's quick-strike plan of attack.
The darkest theories came from cynics who suggested, as his interception total reached an NFL-high 24, that Green simply wasn't very good, that giving up a first-round draft pick to St. Louis for him was a terrible mistake.
He only came into the league, they argued, after 221 other players were drafted ahead of him. In seven NFL seasons he'd seen extensive action only in 1998 when he started 14 games for Washington and was 278-of-509 for 3,441 yards and 23 TDs.
The what's-wrong-with-Trent-Green debate raged all the way through a 6-10 season. But now, as the Chiefs begin their second training camp under Dick Vermeil, a final answer can't help but soon emerge.
All the potential problems have been dealt with, except one.
The rust is gone now that he has a full year under his belt. He was one of a handful of quarterbacks who started all 16 games in 2001 and this offseason he took part in every workout.
"Last year at this time was the first time he'd had an opportunity to throw a pass to a Chiefs teammate," said offensive coordinator Al Saunders. "Having the entire offseason, just from a strength and stability standpoint, has been real positive."
The knee, everyone insists, is sound.
"I don't think we should use that as an excuse," said Vermeil. "The knee thing is no longer a factor."
As for his ill-suited wide receivers, the young ones are a year older and more familiar with the system, plus Johnnie Morton, a 1,000-yard receiver with Detroit in four of the past five years, has been added. Besides that, burner Eddie Kennison, who supplied much-needed speed when he was added late last year, is back and looking very spry.
"There's no comparison (between this year's receivers and last year's)," Vermeil said.
So if he fails again this year, the prize will go to those who said all along that he just wasn't very good.
"Physically, I feel better than I did last year," said Green. Still nursing his tender knee, he practiced only once during two-a-days and feels that may have been more significant than many thought.
"The second practice, I would come out and do seven-on-seven or team, but I was not doing the individual drills, working on footwork, moving in the pocket, working on accuracy.
"In the NFL, very seldom do you get to drop back, take your steps, hitch and throw. For the most part, you are going to have to shuffle a little, slide a little, make a throw with a little bit of movement.
"That is some of the work you get in the individual drills."
Despite the 24 picks, Green still had his moments. He hit almost 57 percent of his passes for 3,783 yards, third-highest in team history. In a victory over Washington in the fourth game of the year, he hit 21 of 26 passes for 307 yards and three TDs.
"But it took a long time to have another game like that," Vermeil said. "He knows what he has to do better than he did last year and the coaches know what we have to do better than we did last year."
Copyright 2018 The Associated Press. All rights reserved. This material may not be published, broadcast, rewritten or redistributed. We strive to uphold our values for every story published.