Four lovable teddy bears will come to life on a new set of 37-cent U.S. stamps.
The name "teddy bear" was linked to President Theodore Roosevelt who introduced the stuffed creatures that were all the rage in the United States during the first decade of the 20th century. They have continued their popularity to this day.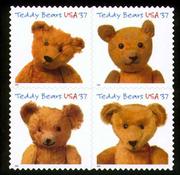 The idea for the quartet of bear stamps was prompted by the popularity of the 1900 "Celebrate the Century" stamps pane issued in 1998, says the U.S. Postal Service. Each stamp has the inscription "Teddy Bears USA 37" at the top.
The four different types are: the "Ideal Bear" (1905), "Bruin Bear" (1907), "Stick Bear" (1920s) and "Gund Bear" (1948).
The new stamps come in panes of 20. The text on each pane reads "Teddy Bears USA." The stamps will be released Aug. 15 at the American Philatelic Society's stamp show in Atlantic City, N.J.
First-day covers for the teddy bear stamps can be obtained through the USPS Stamp Fulfillment Services by calling toll free (800)-STAMP-24.
Disney stamp
The name Walt Disney conjures up animated characters and amusement parks. The visionary Disney (1901-1966) was honored in 1968 with a 6-cent commemorative stamp featuring his portrait surrounded by his famous characters.
Copyright 2017 The Associated Press. All rights reserved. This material may not be published, broadcast, rewritten or redistributed. We strive to uphold our values for every story published.