Toronto — In a homily that was more motivational speech than sermon, Pope John Paul II challenged a half-million young Catholics here Saturday to become "a new generation of builders (who) must learn to build, brick by brick, the city of God within the city of man."
The three-hour evening service called a vigil in Catholic parlance is the final warmup event for World Youth Day before today's climactic Papal Mass, a service that organizers predict will draw 1 million people. John Paul created World Youth Day 15 years ago to bolster the younger generation's commitment to the church.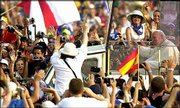 Speaking just after the sun set, the pontiff built on the theme that he began last week at the opening ceremony: Jesus Christ is the cornerstone to a happy life and compassionate society.
"God is entrusting to you the task, at once difficult and uplifting, of working with him in the building of the civilization of love," said the 82-year-old pope from his large white-and-gold chair on a platform high above Downsview Park, an abandoned military base.
Once again, John Paul steered clear of mentioning the sexual abuse scandal that engulfed the Catholic Church in the United States this year. Instead, the pontiff has used his three public appearances to encourage young Catholics to become "the salt of the earth ... the light of the world" the theme for this year's World Youth Day by following the countercultural example set by Jesus.
"Let the light of Christ shine in your lives," he said. "Do not wait until you are older in order to set out on the path of holiness. In the quest for justice, in the promotion of peace, in your commitment to brotherhood and solidarity, let no one surpass you."
Copyright 2018 The Lawrence Journal-World. All rights reserved. This material may not be published, broadcast, rewritten or redistributed. We strive to uphold our values for every story published.