Seeking relief from a Redskins training camp session where one thermometer hit 117 degrees, linebacker LaVar Arrington stripped to his shorts and plopped into a 300-gallon tub of ice.
"It's hot," Arrington said, complaining of cotton-mouth despite trying to quench his thirst with a sports drink in each fist at the camp in Carlisle, Pa. "You always make it a concern, but you've got to get better. You've got to get out here and play. It's part of the game."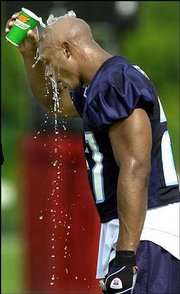 Across the NFL this summer, coaches and trainers are keeping a close watch on their players, determined to avoid a repeat of last August's heatstroke death of Minnesota's Korey Stringer. Some teams are shortening practices and starting them earlier in the day, cutting the number of workouts in pads, and even moving some workouts indoors.
"Go back to last summer the whole league focused on this," said NFL spokesman Greg Aiello. "The goal was to ensure that we are taking the appropriate steps to minimize these risks."
The NFL has consulted with several experts and held seminars on the subject. After learning that dietary supplements increased the risk of heat-related illnesses, the league banned the herbal stimulant ephedra last September and began random testing for it July 1.
A bottle of Ripped Fuel, which contains ephedra, was found in Stringer's locker. There's no evidence that caused his death, but it scared a lot of players out of using supplements.
The league hasn't made any other significant changes, but each team now has a heightened awareness of keeping players hydrated and out of the sun as much as possible.
"We're confident our teams are doing everything they should be doing," Aiello said.
Dr. Elliot Pellman, chairman of the New York Jets' medical department, is one of the doctors the league consulted.
"You have to have the training staff and medical staff and coaching staff all on the same page when watching the practices in extreme weather to make sure everyone is tolerating the practices the same," Pellman said. "And if someone is having a problem, you must do the proper things if he is getting ill.
"You need to practice in what would be real game situation. You could argue that if they are not acclimatized in their training, then in the games they are at risk. But when it is 100 degrees and 100 percent humidity, practicing for a long time is dangerous."
Because of a $100 million lawsuit from Stringer's widow, Kelci, the Vikings aren't commenting specifically about their conditions at camp. But they have made public their plans for dealing with the heat:
A doctor will be on the field during all practices. Previously, a physician was at practice for only some of the team's workouts.
Large sun canopies, some attached to electric carts with fans, will provide shade on the practice fields.
The cafeteria at the Minnesota State dorm where the team stays will be air conditioned.
Yellow practice jerseys will replace purple for the offense, when heat and humidity call for lighter colors.
Citing the fact they were cleared by Minnesota's Occupational Safety and Health Administration of any unsafe conditions at last year's camp, the Vikings maintain their practices and procedures were sound and insist that this year's heat-related precautions do not reflect "dissatisfaction with what was done before."
The same goes for the rest of the league, although many teams acknowledge some changes have been made in light of Stringer's death.
Indianapolis coach Tony Dungy, who has the experience of supervising six years' worth of summer workouts at Tampa Bay, has been emphasizing hydration. The Colts will conduct special teams workouts without pads. Those practices will be "teaching" sessions.
Kansas City, which travels north to train in cooler Wisconsin, will start its morning practices at 8 a.m., about an hour earlier than last year.
"We made the move to give our players more recovery time," coach Dick Vermeil said. "They'll get off the field earlier."
San Francisco, training in the steamy inland Central Valley in California, will not wear pads for both of its twice-a-day practices. The 49ers will put pads on in the afternoons only once at camp.
"We're always filling our players with water and Gatorade continuously," said coach Steve Mariucci. "We've got the ice tubs. We always have, and we always will, but on the heels of Korey Stringer's death, you know that everybody's going to take even more precaution."
Dallas, training in San Antonio, has only three of 16 morning practices scheduled for more than an hour and one of them is a 75-minute workout the only scheduled practice of the day.
In the afternoons and evenings, the Cowboys will be inside the Alamodome.
Jacksonville coach Tom Coughlin has a simple message to keep his players safe from heat stress: Drink.
But nothing Coughlin says is as effective as the sight of players who don't drink, says Jerry Palmieri, the team's strength and conditioning coach. At a normal Jaguars camp, about 10 players will need IV help to replenish fluids.
"As bad as it sounds, that might be the best selling point to the rest of the team that they need to be hydrated," Palmieri said. "As soon as the rest of the guys see someone with a needle stuck in them, they get the point."
Redskins trainer Dean Kleinschmidt said every player gets the message about heat.
"In the old days, before big money, there were guys who didn't follow rules much," Kleinschmidt said. "(Now) there's so much at stake, so much to lose."
Copyright 2018 The Associated Press. All rights reserved. This material may not be published, broadcast, rewritten or redistributed. We strive to uphold our values for every story published.