ULYSSES — Puffy white clouds dot spacious blue skies over drought-ravaged southwestern Kansas, but third-generation farmer Jerald Phelps really isn't watching.
What he wants to see and hasn't in more months than he cares to count are dark, ominous storm clouds filled with rain waiting to be dumped on the dry, dusty ground.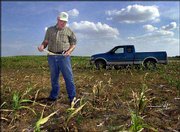 "I don't look at them until they turn dark. When they turn dark, we'll worry about them," said Phelps, who works 2,800 acres in Grant County. Half is in irrigated hay, corn and wheat; the rest is in dryland wheat and milo.
During one of the driest periods on record for the state, Phelps lives in one of the driest counties, where tractors kick up dust clouds and stock ponds are wasting to stock puddles.
"The weeds won't even grow," commented Mike Brewer, who farms about 1,200 acres and has about 60 head of cattle, also outside Ulysses.
"What bothers me most is this isn't something we can get through immediately. You don't get out of a drought overnight," he added.
'Getting too late'
From June 2001 through last month, the National Weather Service recorded 11.98 inches of rain in the area, 8 inches less than the 12-month average.
"If we are at an 8-inch deficit, we will need 24 inches to put it back on track," said Darl Henson, the county agricultural extension agent.
Another measurement is moisture content of topsoil and subsoil. In southwest Kansas, the measurements for both are either "very short" or "short."
"We have had some isolated areas that got rain, but for the most part no significant rainfall," Henson said. "As a general rule, it is getting too late to help this year's crop."
Phelps and other farmers and ranchers in Grant County are resigned to the situation.
"We're not getting any help from Mother Nature. When you have to put all your water on it to grow, then you don't have enough," he said. "This is our third year with insufficient moisture."
Phelps abandoned 150 acres of his 500-acre hay crop and figured he would be lucky to get 25 percent of his milo crop. He said most farmers have crop insurance, but that won't cover their losses.
"If you have two or three losses, they argue with you more, and the hassle is ridiculous. The most they will pay is for one half of a crop, and even with that there won't be a profit," Phelps said.
A new farm crisis?
To make matters even worse, he said, this year's snowfall also was abnormally low.
"We had just little skiffs of snow and no more than 4 inches. We depend on getting a little bit of moisture from that," Phelps said.
Ron Knott, who farms in nearby Hamilton County, said his situation wasn't any better with his 1,500 acres of milo.
"The milo came up. It just ran out of moisture and it died. I replanted and it hasn't come up." he said. "If you don't have water, you don't have crops. That is the whole deal."
Brewer also is executive vice president at Southwest Bank and works closely with farmers and ranchers on their loans. He worries about what could happen.
"It's forcing everybody back to where we were 10 or 15 years ago. We have had two straight years of not good production," he said.
Brewer said it costs about $4,000 a month to irrigate a 120-acre crop circle and that's just figuring for the fuel to run the pumps.
"The costs go up with the lack of rain because you have to use more water," he said.
Henson said he also worried about the future of farmers.
Cruel irony
"We have guys who had a poor wheat crop and now they are looking at the possibility of a poor fall crop," he said. "We have the potential to see farmers going out of business."
To put things in perspective, weather service records at Dodge City show precipitation for the June-to-June period at 43 percent of the average of 25.53 inches.
That's the second driest since 1874 exceeded only by the June-to-June period for 1952-53, which was at 42 percent. The Dodge City records fairly reflect conditions in the surrounding counties.
Henson said there shouldn't be concern about the drought creating another Dust Bowl because of changes in farming practices, such as leaving crop stubble in the ground and using chemicals to kill weeds.
Brewer said he sees a certain irony in the situation.
"We have been waiting for the price to go up and it has gone up, but we don't have anything to sell," he said.
Copyright 2018 The Associated Press. All rights reserved. This material may not be published, broadcast, rewritten or redistributed. We strive to uphold our values for every story published.