Seattle — Jarrod Washburn's 12-game winning streak is over and so is the Anaheim Angels' brief stay in first place.
Edgar Martinez hit a two-run homer to help the Seattle Mariners beat Washburn and the Angels, 3-1, Saturday to retake the AL West lead.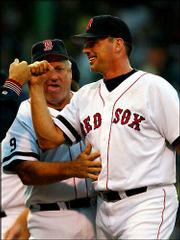 Joel Pineiro (11-4) outpitched Washburn (12-3), who hadn't lost in 17 starts since April 13. The Mariners had lost five straight to the Angels, who took over the division lead by two percentage points with a victory Friday night.
"It doesn't feel good to lose," Washburn said. "I remembered it and now I remember it fresher. This isn't the team I wanted to the streak to end against, but that is a very good ballclub over there."
Angels manager Mike Scioscia said Washburn pitched well enough to win.
"He gave up an infield hit and the 3-1 fastball to Edgar that didn't get to where he wanted it for a home run," Scioscia said. "Other than that, you can't find much wrong with what Jarrod did on the mound today."
Washburn, who had won his previous six starts, had the longest winning streak in the majors this season and was two shy of Chuck Finley's club-record 14-game winning streak set in 1997-98.
Washburn pitched a four-hitter for his second career complete game, both losses. He struck out two and walked four.
Pineiro allowed one run and nine hits in 61*3 innings to lower his ERA to 2.92, fifth best in the AL.
"I think I was in a jam in every inning, but I was able to get out of it," Pineiro said. "Those guys (the Angels) are tough. They make you work."
Arthur Rhodes pitched 12*3 of hitless relief and Kazuhiro Sasaki pitched the ninth for his 26th save in 30 opportunities.
Martinez's fifth homer of the year snapped a 1-1 tie in the fourth inning. Martinez homered 396 feet into the Angels' bullpen in left field on a 3-1 pitch from Washburn after Bret Boone opened the inning with an infield single.
It was Martinez's first homer since July 15. He missed most of the first half of the season because of a ruptured tendon behind his left knee.
In his first at-bat in the second, Martinez flew out to the warning track in left.
"I hit that first ball good," Martinez said. "It was just too high in the air. The second one I hit was more on the line. We knew he's (Washburn) been throwing the ball really well. He's tough."
Martinez said Washburn tried to come inside with a fastball and didn't get the pitch in enough.
"It always makes you feel good when you're able to help the team," he said. "That's what it's all about."
Washburn said the pitch that Martinez hit his home run was almost identical to the second-inning flyout.
"You don't get away with a pitch like that twice with a hitter like that," he said. "He made me pay for it."
Red Sox 4, Orioles 0
Boston John Burkett pitched a four-hitter for his first complete game of the season, lifting Boston past Baltimore. Lou Merloni hit a solo homer and Trot Nixon went 2-for-3 with a triple and a double as Boston won for just the third time in eight games. The Red Sox entered the day a season-high five games behind the AL East-leading New York Yankees.
Burkett (10-3), who is 10-0 against AL teams this year, matched his season high with seven strikeouts and didn't walk a batter in his sixth career shutout. His last came April 27 of last season for Atlanta, against Arizona.
Rangers 10, A's 6 (10)
Arlington, Texas Alex Rodriguez hit a grand slam in the 10th inning his second homer of the game on his 27th birthday as Texas rallied past Oakland. Rodriguez also homered in the first inning and leads the majors with 34 this season. Texas came back from a four-run deficit. Danny Kolb (1-0), the sixth Texas pitcher, worked a scoreless 10th for the victory.
Twins 5, Blue Jays 4 (10)
Minneapolis Corey Koskie's one-out double in the bottom of the 10th inning lifted Minnesota past Toronto, the Twins' ninth victory in 10 games. Pinch-hitter Bobby Kielty started the rally with a single off Kelvim Escobar (5-5) and moved to second on a sacrifice bunt by Jacque Jones. After an intentional walk to Cristian Guzman, Koskie lined a 2-0 pitch into the gap in right-center to score Kielty. Bob Wells (1-1) pitched two scoreless innings for his first victory of the season.
Tigers 5, Indians 1
Cleveland Steve Sparks won for just the second time since May 29 and Damion Easley hit a three-run homer as Detroit won its fifth straight game. Sparks (5-10) allowed one run and seven hits in eight innings, and improved to 5-0 in seven starts the past two seasons against Cleveland. It was his longest outing in 13 starts.
Devil Rays 7, Yankees 4
St. Petersburg, Fla. Jared Sandberg hit a two-run homer as Tampa Bay beat New York for just the second time in 11 tries this season. Travis Harper (4-6) allowed four runs and six hits over 62*3 innings in his fourth start of the season and first since May 25. He made the spot start because the Devil Rays played a doubleheader last Tuesday at Boston. Yankees starter Jeff Weaver (7-9) struggled for the fourth straight outing since being acquired from Detroit in a three-team trade July 5. He allowed six runs and nine hits in seven innings.
Copyright 2018 The Associated Press. All rights reserved. This material may not be published, broadcast, rewritten or redistributed. We strive to uphold our values for every story published.