Houston — With a new coach, new uniforms and newfound intensity, Kansas University's football players are eager to start the 2002 season.
It's unlikely that any of the Jayhawks is more eager than Leo Etienne.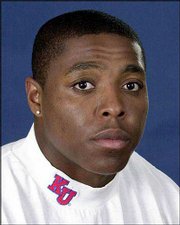 "I'm hungry," the senior co-captain said Thursday at the Big 12 Conference media days. "I didn't go through spring drills."
Etienne, a linebacker from Hutchinson Community College, injured his left shoulder in the sixth game of his junior season, a 38-34 loss to Missouri on Oct. 20, 2001.
After posting double-digit tackles in three of the Jayhawks' first five games, Etienne's production dipped somewhat in the second half of the season. The Auburndale, Fla., native still finished as KU's second-leading tackler with 94 and also had eight sacks, five pass deflections, one interceptions and a fumble recovery.
His injured shoulder required arthroscopic surgery in November, and Etienne (6-foot, 210 pounds) was limited to noncontact drills in the spring. That meant that when first-year coach Mark Mangino was implementing his new schemes, Etienne was often standing on the sidelines.
Etienne said he took "mental reps" by paying close attention during practices.
"It gave me a chance to learn exactly what I need to do," said Etienne, who is recovered from his injury and is expected to start at outside linebacker.
The senior praised new strength coach Mark Smith for motivating the Jayhawks in the offseason.
"His plan is to push everybody to the limit, and he wants to push you beyond the limit," Etienne said of Smith, a former Florida strength coach. "We have 100 percent (attendance) at every workout. All our guys are out there. We're getting stronger. We're getting faster. We're doing everything he says to prepare ourselves for the season."
The Jayhawks, Etienne said, lacked that kind of commitment last year when they finished 3-8.
"At times, we were intense," he said. "At times, a lot of guys didn't have intensity because they felt like we didn't have anything to play for."
Mangino has convinced the Jayhawks they will have plenty to play for when the season begins Aug. 31 at Iowa State.
"Everything we do is intense," Etienne said. "Everything we do, we go hard. If you watch our games this year, the one thing you will see is we'll play hard for four quarters. His style is, pretty much, go after it. It's an intense atmosphere out there."
Copyright 2018 The Lawrence Journal-World. All rights reserved. This material may not be published, broadcast, rewritten or redistributed. We strive to uphold our values for every story published.