Denver — An Olympic moguls skier who wants to play football for the University of Colorado sued the NCAA on Thursday, saying it unfairly restricted his ability to continue skiing professionally.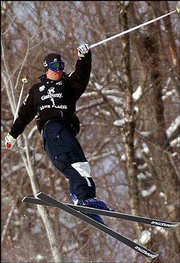 Jeremy Bloom, 20, above, could have been a Buffaloes wide receiver last year. He put off college to compete in the Salt Lake City Olympics, where he placed ninth.
In the lawsuit filed in Boulder County District Court, Bloom argues that if he plays for the Buffaloes this year, he would be forced to give up professional skiing, a modeling contract and a developing acting career because of the NCAA's interpretation of its regulations.
Copyright 2018 The Lawrence Journal-World. All rights reserved. This material may not be published, broadcast, rewritten or redistributed. We strive to uphold our values for every story published.