Fast-food chain sold
Britain's Diageo PLC announced a deal Thursday to sell Burger King Corp., the world's second-largest fast-food business, to a consortium of U.S. investors.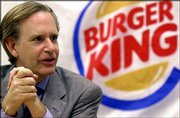 Diageo, the world's largest producer of alcoholic beverages, will unload Miami-based Burger King for $2.26 billion in cash and turn its focus to popular liquor brands such as Johnny Walker Scotch and Smirnoff Vodka.
Burger King's buyer is a consortium of venture capital firms led by Texas Pacific Group. The trio also includes Boston-based Bain Capital and Goldman Sachs Capital Partners, the private equity arm of U.S. investment bank Goldman Sachs.
The change in ownership is expected to boost Burger King, which has suffered in past years due to inadequate marketing and the lack of a coherent management strategy. Burger King President Christopher Clouser, above, said the company's headquarters would remain in Miami.
Media: AOL Time Warner see shares tumble
Wall Street analysts downgraded the stock of AOL Time Warner Inc. on Thursday, a day after the company disclosed that federal regulators were looking into its accounting.
The company's shares fell $2.55, or 22 percent, at $8.85 on heavy trading of 100 million shares on the New York Stock Exchange four times the average daily volume. The stock is now down about 70 percent since the beginning of the year.
AOL Time Warner chief executive Richard Parsons said Wednesday that the Securities and Exchange Commission was conducting a preliminary inquiry into the accounting of several transactions that apparently boosted revenues at the America Online division.
Food: Hershey may seek deal
Hershey Foods Corp. and the charitable trust that controls the nation's largest candy maker said Thursday that the trust is exploring a possible sale of the company.
Citing sources familiar with the talks, The Wall Street Journal first reported Thursday that the Milton Hershey School Trust, which owns 77 percent of the company's voting stock, has been considering selling the company in a deal that could fetch more than $10 billion.
The trust is seeking to diversify its assets, said Robert C. Vowler, chief executive officer of Hershey Trust Co., which manages the Milton Hershey School's $5 billion endowment. Hershey Foods stock represents about 50 percent of their value.
Wall Street: Earnings of local interest
Commercial Federal Corp., which has banking operations in Lawrence, reported Thursday quarterly earnings of 60 cents per share compared to 51 cents per share during the same period a year ago.
Overland Park-based Waddell & Reed Financial Inc., which operates a financial services office in Lawrence, reported earnings of 31 cents per share, down from 38 cents per share a year ago.
Kansas City Mo.-based Kansas City Southern reported earnings of 23 cents per share, up from 8 cents during the same period last year.
Copyright 2018 The Lawrence Journal-World. All rights reserved. This material may not be published, broadcast, rewritten or redistributed. We strive to uphold our values for every story published.