First-year Kansas coach Mark Mangino said that at its current pace, KU has "a pretty good chance" to break the school record of 27,624 season tickets.
KU marketing director Lee Johnson could not be reached for comment.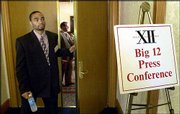 Uniform changes: Many Nebraska fans are unhappy the Cornhuskers have changed their road uniforms. Instead of white shirts with red pants, the Huskers will wear white pants with white jerseys. Most unsettling to the fans is the fact that the jerseys will have a red stripe on the sides.
"It's just a stripe," running back Dahrran Diedrick said. "It's time for a change. We want to look a little bit different out there."
They're back: Baylor, Texas Tech and Texas A&M; have the most returning starters in the Big 12 with 17 each.
"We won eight games last year and had to play a lot of freshmen who will have a lot more experience this season," said A&M; coach R.C. Slocum, whose team was 8-4 in 2001. "Over time, their experience from last year will make us a much improved football team."
Baylor coach Kevin Steele is likely hoping the same thing. His Bears were 3-8 last year. Tech was 7-5.
Kansas (3-8) and Kansas State (6-6) have the fewest returning starters with 10 each.
Did you know?: Texas (19-20-2), Texas A&M; (13-14), Colorado (11-13) and Texas Tech (5-19-1) all have losing records in bowl games.
The Big 12 team with the most impressive bowl record?
Oklahoma is 22-12-1.
Nebraska, for the record, is 20-20.
Record watch: Nebraska can set a major-college record this season for consecutive winning seasons. Last year, the Huskers tied a record set by Notre Dame in 1932 with their 40th straight winning season.
Best and worst: Since Big 12 play began in 1996, Nebraska has the best league record at 34-6. Baylor, which hasn't won a league game since 1998, has the worst record at 3-45.
Rough road: All six of Iowa State's road opponents Florida State, Iowa, Oklahoma, Texas, Kansas State and Colorado played in bowl games last year.
"The schedule will be very challenging, but we'll compete well enough to give ourselves a chance," quarterback Seneca Wallace said.
Once a conference doormat, ISU has made two straight bowl appearances. Asked if the Cyclones had set a goal of reaching a specific bowl, Wallace said he didn't care as long as ISU made the postseason.
"My goals might be a little bit more aggressive than Seneca's," ISU coach Dan McCarney quipped.
Going south: Big 12 media days take place in the host city of the conference's championship game. This season will mark the third time in four years the title tilt will be played in Texas. This is the farthest south the league has ventured.
"Next year might be in Guadalajara, Mexico," McCarney said.
Up next: The event concludes today with Texas, Oklahoma State, Baylor, Colorado, Missouri and Texas Tech.
Copyright 2018 The Lawrence Journal-World. All rights reserved. This material may not be published, broadcast, rewritten or redistributed. We strive to uphold our values for every story published.