Anaheim, Calif. — Garret Anderson's game-winning hit was nothing to brag about an opposite-field blooper to left.
The Anaheim Angels' cleanup hitter was able to chuckle about it afterward because it gave his team an important victory.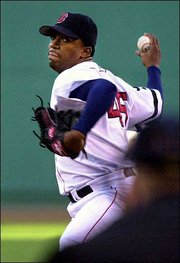 Anderson's two-out single off Oakland closer Billy Koch drove in Darin Erstad with the go-ahead run Thursday as the Angels beat the Athletics, 5-4.
"He's a tough pitcher, he can make the ball move a couple different directions. I don't ever remember getting a good part of the bat on the ball," Anderson said, smiling. "I just got lucky. The ball dropped where nobody was playing. He got me to pop up, he got his job done.
"When you face a guy like that with overpowering stuff, I'm just trying to put the ball in play. I'll take it. I know there's a lot of them I've hit that have been caught."
David Eckstein singled with one out for his fourth hit of the game, equaling a career high. Erstad forced Eckstein and took second on a wild pitch before Jim Mecir (3-3) walked Tim Salmon.
Koch relieved and Anderson came through on a 1-0 pitch with his third hit of the game and 77th RBI of the year.
"He's always tough on us," Angels manager Mike Scioscia said of Koch, who's 6-1 with 25 saves in 30 chances. "Even though Garret didn't hit it very hard, he found a hole."
The Angels rallied from a 3-0 deficit and scored all their runs with two outs.
Scot Shields (3-1) pitched 22/3 scoreless innings to earn the victory and Ben Weber worked a perfect ninth for his fifth save in seven chances.
The Angels, contending with Oakland and Seattle in the AL West, have played their last eight games against the A's and Mariners, winning six. They open a three-game series in Seattle tonight.
The A's, who lost for just the fifth time in 15 games, fell two games behind the Angels.
After the game, Oakland acquired second baseman Ray Durham from the Chicago White Sox for minor league pitcher Jon Adkins. Durham is expected to join the A's in time for tonight's game in Texas.
"He's a talent, this kid, he's got a lot of talent," A's manager Art Howe said of the 30-year-old Durham. "It's nice to inject that kind of bat into our lineup. He's a switch-hitter with speed and he's got a lot of tools."
The A's took a 3-0 lead off Ramon Ortiz in the fifth on an RBI single by Miguel Tejada and a two-run single by Eric Chavez.
The Angels drew within one run off Cory Lidle in their half when Salmon snapped an 0-for-11 drought by hitting a two-out, two-run single.
The A's made it 4-2 in the sixth when Shields threw a two-out, bases-loaded wild pitch, enabling Olmedo Saenz to score.
But the Angels tied it in the bottom half on two-out, RBI singles by pinch-hitter Jorge Fabregas and Eckstein off Chad Bradford. Mecir fanned Salmon with the bases loaded to end the inning. Ortiz, who has yielded a big league-leading 28 homers, allowed eight hits all singles and four runs in 51/3 innings.
Mariners 7, Rangers 2
Seattle Ichiro Suzuki hit his second homer in three games and Seattle starter John Halama won again as the Mariners beat Texas. Rafael Palmeiro hit his 26th homer of the season for the last-place Rangers, who lost their sixth consecutive series. It was Palmeiro's 473rd career home run, 22nd all-time. Next up on the career list is Willie Stargell and Stan Musial with 475 homers.
Staying a game ahead of Anaheim in the AL West, the Mariners scored five runs in the second inning off Aaron Myette (0-2). After a walk to Mike Cameron and a single by Ben Davis, Suzuki homered to right field to give Seattle a 4-1 lead. It was Suzuki's sixth homer of the season and fourth since the All-Star break.
Mark McLemore walked and John Olerud singled before Bret Boone doubled for Seattle's final two runs in the second.
Red Sox 6, Devil Rays 0
Boston Pedro Martinez struck out 11 and allowed two hits in eight innings, and Boston beat Tampa Bay. Trot Nixon hit his 15th homer of the season, a two-run shot in the first, and Manny Ramirez and Jason Varitek hit back-to-back homers off Luis De Los Santos (0-2) in the third. Varitek scored Boston's other run on a double, a ground out and a sacrifice fly by Brian Daubach in the sixth.
That was much more than the Red Sox needed for their first win since a 22-4 rout of the Devil Rays in the opener of Tuesday's day-night doubleheader, After that, Boston lost 5-4 and 9-5 as Tampa Bay won two straight road games against AL teams for the first time since May 21-22 in Seattle.
Martinez (13-2) is 5-0 in his last seven starts. In his last five, his ERA is 0.79 with 50 strikeouts, eight walks, 20 hits and three earned runs in 341/3 innings.
On Thursday, he allowed singles by Carl Crawford and Randy Winn, and four runners while walking one.
Copyright 2018 The Associated Press. All rights reserved. This material may not be published, broadcast, rewritten or redistributed. We strive to uphold our values for every story published.