It's probably little comfort to Kansas Republican moderates, but gubernatorial candidate Tim Shallenburger favorite of the GOP's conservative, anti-abortion wing in some ways is a sheep in wolf's clothing.
"He's pretty rational," said former State Rep. Ed McKechnie, a Pittsburg Democrat who served in the Kansas House with Shallenburger. "He just has a bunch of crazy friends. That's the monkey on his back or the scarlet letter that he carries. He's not nearly as conservative as all his friends are, but he gets painted with that."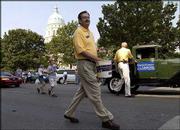 Shallenburger's hand has been perhaps the most vigorous one on the paint brush. All through the Republican primary campaign he has touted himself as "THE conservative candidate" in the race. Kansans for Life, the state's largest anti-abortion group, is providing many of his campaign's foot soldiers. He boasts of their support and that of the gun-loving National Rifle Assn.
But Shallenburger, son of a Democrat union organizer, rarely, if ever, crossed labor interests during his time in the Kansas House. And he repeatedly held onto the seat from a southeast Kansas district that elected Democrat representatives immediately before and after him.
"Tim Shallenburger has a 100 percent voting record with labor," said Jim DeHoff of the Kansas AFL-CIO.
Shallenburger's labor support is strong enough that Democratic gubernatorial candidate Kathleen Sebelius might have to fight for the AFL-CIO endorsement if Shallenburger succeeds in the GOP primary.
"That's up to the delegates," DeHoff said. "I'm sure if Shallenburger is elected, there will have to be some decisions made at that time."
Shallenburger's entire political career has been marked by talking loudly about his conservative views while voting with some of the Democratic Party's most powerful constituencies. It might be a formula that works to make him governor.
Bill Arnall, a friend since boyhood, remembers the first time Shallenburger ran for the House.
"I said I don't think you can get it," Arnall recalled. "I'm for you, but there's been a Democrat there for 24 years. This is a Democrat county. Even your dad's a Democrat. Only two people come to your Republican meetings. The fifth time he was re-elected, he was still going door to door and getting doors slammed in his face."
"I don't think there's a big difference between Republicans and Democrats in Kansas," Shallenburger said. "But the kind of Democrats in southeast Kansas are blue-collar, working-class Democrats. They are not liberal. They don't believe in big government. They're anti-tax, blue-collar and socially conservative Catholic. That's not far from where I am. It wasn't a stretch for them to vote for me."
Shallenburger, darling of what moderates call "the religious right," the candidate who most preaches the importance of morals and values, also confounds the stereotypes by puffing on cigarettes and sometimes lacing private conversations with profanity. The rough language gets him an elbow in the ribs if his wife, Linda, is nearby.
Supporters say the contradictions prove Shallenburger is a flexible pragmatist, not an ideologue. Critics describe the contradictions differently. They say he is an opportunist.
No taxes
Shallenburger's broadest message in the campaign has been one that traditionally plays well with voters: No new taxes.
He wants to cut the corporate income tax.
He also says he wants to increase education spending.
Most analysts of the Kansas budget say there is no way to spend more on schools without new taxes in the coming fiscal year given that the state is facing its biggest projected shortfall ever $600 million to $700 million.
Budget experts say entire swaths of government, including the Legislature and the Governor's Office, could be eliminated and not be enough to make up the shortfall.
Shallenburger says education can be improved without more taxes, if government is made more efficient. But his examples don't always hold up to scrutiny. Shallenburger never served on the Appropriations Committee in the House, which is that chamber's best training ground on budget issues.
An example:
Date of birth: March 14, 1954Family: Married to Linda; daughter Candace, 21.Religion: Protestant, Apostolic Faith church in Galena.Education: Baxter Springs High School, 1972; attended Pittsburg State University and Coffeyville Community College.Occupation: State treasurer.Political and governmental experience: Elected to the Kansas House of Representatives, 1986. House speaker 1994-1999. State treasurer, 1999-present.
l Shallenburger says he would give state agencies incentives to spend less by letting them keep some of the money they save through efficiency. Now, he said, agencies rush to spend their appropriations at the end of the year, even if they don't need to so they can preserve funding levels and hide from legislators that they can do their jobs with less.
The fact is some major state agencies, including the universities, already are allowed to keep all they save. Other state agencies are allowed to keep half their savings, returning the other half to the state general fund.
The Savings Incentive Program "has been in place a number of years and works very well," said Duane Goossen, state budget director.
Shallenburger apparently didn't notice the program while he was House speaker or state treasurer.
Pressed for details about his various plans or ideas for making the budget balance, Shallenburger sometimes seems impatient or frustrated.
"I can't put my finger on $500 million worth of cuts today," Shallenburger told the Journal-World. "But I'm confident they are there, and I'm not talking eliminating essential services or shutting schools."
Shallenburger chides his opponents for not signing a pledge to not raise taxes.
But when the Journal-World asked him to pledge to veto any tax-increase bill lawmakers might send him as governor, which ultimately is his best bet at delivering on a no-new-taxes pledge, he waffled.
"I've tried to avoid saying anything on that. I can't automatically say for certain. We are not against a tax increase because we think it's politically smart. We think it's the wrong fiscal policy. I don't think they can convince me we need a tax. I can't imagine I would sign a bill. I won't say that I'll veto a bill. You don't know what the circumstances might be."
Shallenburger may not make a convincing case for how he would deal with the current budget dilemma. But few who watched him in the House doubt his commitment to cutting taxes. The biggest tax cuts in recent state history were engineered in the House while Shallenburger was speaker and fellow conservative Phill Kline, now a candidate for attorney general, was chairman of the Taxation Committee.
Shallenburger essentially has one big idea, which he successfully advanced in the House, and it is this:
"I think his philosophy is that in order to control government's size you have to starve it of its nutrition the money," said Arnall, who worked as an aide to Shallenburger when Shallenburger was speaker. "It will always consume all that you give it and want more."
Shallenburger agreed with Arnall's assessment of his approach to government.
"Government is an ever-growing beast," Shallenburger said. "My goal is not to slay it. My goal is to stop it from growing so fast, slow growth to the rate of inflation."
But that's already happened.
Shallenburger's campaign claims state general fund spending the past decade has outpaced inflation by a factor of almost three. Unmentioned is that since Shallenburger left the Legislature and became state treasurer, state general fund spending has increased at rates below the inflation rate. The current fiscal year budget is actually down about 1 percent from the previous year. That's well below the rate of inflation.
Shallenburger says he has cut spending in the Treasurer's Office. It's true the agency's general fund spending has decreased. But the office's overall spending has gone up, with the increase covered by more fee-for-service collections. The overall spending increase for the office has exceeded the inflation rate.
Background
Shallenburger grew up in Baxter Springs, "a fourth-generation Kansan."
His father was an electrician. His mother was a housewife. A relative on his mother's side once owned a Phillips 66 Station on Route 66.
"I remember going down to Route 66 the hotels and gas stations, and now it's nothing going down and begging people traveling through for the pop bottles and getting the refunds and standing there drinking pop all day. We were probably not poor, but we sure weren't rich. My father had a job. As long as you had a job back in the '60s, you weren't poor."
Shallenburger took an early interest in politics. He ran for president of his high school class and won. He decided while still in high school he was Republican.
"I was in every (school) play. I played basketball. I wasn't good at anything, wasn't bad at anything ... a second-stringer all the way," he said.
After graduation, he attended Pittsburg State University for a while, but then moved on to Coffeyville Community College on a band scholarship, playing trumpet.
"Did that a year, then got a job as manager of a pizza restaurant in Baxter Springs. I thought I'd have all the money I ever needed," he said, "I went from the pizza restaurant to being a finance company repo man in Joplin (Mo.), then I went to work for a bank, then I went to work for another bank."
In 1981, he began working at American National Bank in Baxter Springs, eventually becoming a vice president.
He was elected to the House in 1986. He successfully pushed for cleanup of contaminated mining sites in Galena and was key player in the last significant campaign finance reform. By 1994 he had been elected speaker. He broke precedent by being chosen speaker for a second two-year term in 1996. In 1998, he was elected state treasurer. As state treasurer, he's received most attention for enacting a college education savings plan.
Shallenburger has a wry sense of humor and is popular with news reporters because he tends to be available and quotable.
He said if elected governor he would try to be accessible to all sorts of people, taking Cabinet meetings on the road to different Kansas towns.
"He's just a regular guy," Arnall said. "These guys that are millionaires that become governor ... it's just like Shallenburger always said, these guys don't write out the checks for their car tags. They don't know what it feels like to do that. Some accountant does it for them. That's the difference with Shallenburger. He's a regular guy, never had much money. He's never been driven by that. He hates taxes, thinks there's a lot of waste. I don't think he ever imagined he would be speaker. He understands how to talk to people and how to listen to them, and I think he understands what people are wanting out of government as much as they can get for as little as possible. I think those other guys would sit on their high horse and soak up the atmosphere."
"He's not a guy that wears his emotions out on his sleeve," Arnall said. "He's pretty well a private person when it comes to that kind of demonstrative emotions. If he's feeling it, you probably won't know it. But he's funny. He is a bit of a character. I think that's why he gets along with people so well. I think people kind of appreciate that he's so light-hearted, not some stuffed-shirt politician. That's a big part of his appeal."
Shallenburger has been brushed but not directly hit by scandal. While speaker, he, Kline and Greg Packer, a third conservative House member, were hired by BioCore Inc., a medical supply company that received state grants and loans. The company later flopped. The KBI investigated the lawmakers' relationship with the company after former employees complained Shallenburger and the others took salaries for little or no work.
Packer and the company ended up paying fines for violating campaign finance laws. The attorney general concluded there wasn't compelling evidence to charge Shallenburger or Kline with any crime.
Shallenburger said the investigation was a political witch hunt.
Copyright 2018 The Lawrence Journal-World. All rights reserved. This material may not be published, broadcast, rewritten or redistributed. We strive to uphold our values for every story published.