If it's charisma you're looking for in a gubernatorial candidate, Dave Kerr wouldn't be your man.
But of the four Republicans seeking the office in the direst budget year in state history, Kerr is the candidate who best understands the details of state finances and agency spending.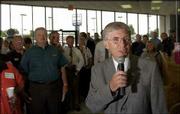 Currently president of the Kansas Senate and formerly chairman of the Ways and Means Committee, Kerr has been called the "green eyeshade candidate."
The state faces a budget shortfall of as much as $700 million, and it's all but certain the next governor will have to find places to cut spending.
Kerr's distinguishing credential in the race is his budget know-how. On the campaign trail, as he talks to Rotary clubs and other groups, he explains the state's fiscal dilemma as if he were an earnest civics teacher.
"All states and the federal government were riding the benefits of the capital gains bubble," Kerr recently told a Johnson County group. "That's not likely to come back soon."
The piercing of that bubble and the consequences for the U.S. and Kansas economies "were an almost seminal event," Kerr explained to the small crowd picking its way through scrambled eggs and bacon from a buffet line.
Low-key personality
Date of birth:
May 4, 1945.
Family:
Married to Patty; sons Ryan and Dan attend Kansas University.
Religion:
Presbyterian, First Presbyterian Church of Hutchinson.
Education:
bachelor's degree in biological science, bachelor's degree in psychology, Kansas State University, 1968; master's in business administration, Kansas University, 1970.
Occupation:
Farmer, investor.
Political and governmental experience:
Kansas Senate, 1985-present. Former chairman of the Ways & Means, Education and Economic Development committees.
Kerr's statement of substantial interest
That's hardly the kind of campaign speech to fan the passions of the electorate. But his low-key personality and no-nonsense style have earned him some fans.
"He has an incredible capacity for numbers, and I think that's what our next governor needs," said Martha Slater, a Hutchinson businesswoman who has known Kerr for about 20 years. "He just reels stuff off. I just really feel like our next governor needs to know this stuff. We don't have time to be in training for this."
Kerr's betting there will be more voters like Slater than there are like Ron Long of Medicine Lodge.
Long, a Republican, chamber of commerce member and retired businessman, is the type of voter Kerr might have counted on in another year.
But, Long said, "I'm not voting for any of those incumbents that got us into this $700 million mess."
In 1998, when the economy was robust and the state treasury plump with receipts, Kerr, along with all but one other member of the House and Senate, voted for a $250 million tax cut package proposed by Gov. Bill Graves. That year's tax cut subsequently has cost the state treasury billions of dollars in foregone revenue, according to state budget director Duane Goossen. It was the grand finale of five straight years of tax cuts. It trimmed the statewide property tax levy for public schools from 27 mills to 20 mills. And many Senate moderates, including Kerr, held their noses to vote for the bill in an election year that had Graves running scared against conservative GOP primary challenger David Miller of Eudora.
Tax-cut mistake?
At the time, Graves defended the bill against accusations it cut taxes too deeply and jeopardized the state's future fiscal soundness.
"Quite frankly what this means is that the people are going to turn around and reinvest and spend and continue to stimulate the state economy with these tax savings," Graves told reporters. "I believe this is an unprecedented piece of legislation to benefit the people of Kansas."
The only legislator to vote against the package was then-Sen. Ben Vidricksen, a Salina Republican.
After the vote, then-Senate Majority Leader Tim Emert turned to then-Senate President Dick Bond and said, "Ben's the only guy here with guts."
Kerr won't say the 1998 tax cut was a mistake. But he points out that he voted against the smaller 1997 tax cut because he considered it counter to the state's long-term fiscal well being. He defends his 1998 vote, saying, "During that period, the revenues simply grew so fast in the same way they've simply dropped off now."
Kerr, like his rivals, has offered little in the way of detail to explain how he would deal with the budget shortfall he would immediately face if elected. He has said he supported expanding Local Option Budget authority for school districts as a stopgap measure, though as his opponents point out he has voted against doing that in the Senate.
An 'obsessed' media
"I think the press has become somewhat obsessed with the budget problems we have in the immediate future and has not focused on long-term plans for Kansas," Kerr said. "In my case, I most assuredly do have some. It's the longer term that helps motivate me to run for the office. We have a difficult budget problem in the short term. But the longer term is what's more important. What will Kansas look like five or 10 years from now?"
Kerr said his goals as governor would be to make Kansas known for the "excellence of its education, the strength of its economy and the efficiency of its government."
He said he also would have major initiatives aimed at stemming rural depopulation.
"If we don't do something to slow that trend, Kansas will be a state of many ghost towns, and I think that's a bad development," he said. During Kerr's tenure in the Senate, he has been considered one of the staunchest backers of economic development programs.
He also said he would work to decrease the number of low-birth-weight babies born in Kansas.
"While Kansas consistently ranks better than the national average," he said, "our numbers have been going in the wrong direction. Our chances of having a good, productive citizen that has an opportunity for an enjoyable life go way up if we can have babies born that are healthy and of normal weight. Trying to help that problem would be a major initiative of mine."
Farm boy
Kerr grew up on a farm near the tiny town of Coats in western Kansas. He was valedictorian in a graduating class of six.
"I grew up on a tractor seat," Kerr tells audiences. "At least that's the way it seemed to me."
He said he played baseball as an antidote to otherwise constant farm chores.
Dave's brother Fred Kerr recalled those days.
"Growing up, we were both hard workers on a farm here in Pratt County," Fred Kerr said. "I always felt there's some pluses and minuses to that. You learn the work ethic but miss out on the other stuff kids were doing to have fun. He was always very smart, very analytical."
Fred Kerr is a member of the Kansas Board of Regents and former Senate majority leader. He ran for governor in 1994, losing to Bill Graves in the primary.
After college, Dave Kerr went to work for Trans World Airlines in Kansas City, "back when it was a world airlines," Kerr said.
Connections he made at TWA led him to get into the landscaping business in Saudi Arabia. He said he and a business partner secured contracts landscaping palaces for the king.
"We didn't know anything about landscaping, but we figured Kansas farm boys could grow trees and grass anywhere," Kerr said.
Back to Kansas, politics
He returned to Kansas, selling his interest in the business because his wife "wanted to live in a country where she was allowed to drive."
He was involved in a couple of business ventures in Hutchinson, including the Golden Goat, a company that put in parking lots recycling machines that accepted aluminum cans and dispensed small change in return.
In recent years, though, he has devoted his energies to politics, relying on investments and farming interests for income. Unlike some candidates, he has not released his tax returns. But he has met standard state reporting requirements for listing outside business interests. Those reports show he has a broad range of investments. He is thought to be one of the wealthier members of the Senate.
Kerr said if elected he would be "very much a hands-on governor, very involved with the Legislature."
But as governor he would face a Senate that included a large number, if not a majority, of members, who were not Kerr fans.
The battle about redistricting in the 2002 session left Kerr with several enemies from the GOP's conservative ranks and did nothing to endear him to Democrats, either.
Complaints
The common complaint among his Senate critics is that "he doesn't listen" and that he carries grudges.
"Senator Kerr has a very long memory," said Sen. Janis Lee, a Kensington Democrat. "He's a very bright, but a not very inclusive, individual. In my opinion, he tries to solve things on his own."
Lee's district was blended with that of a Republican incumbent, so she has reason to be angry.
Lee and other senators were outraged when Kerr sided with the thin majority that passed a redistricting map eliminating a western Kansas Senate district. The new district went to Johnson County. Lee said Sedgwick County has the same population as Johnson County, but one less Senate district, and the maps could have been drawn to give western Kansas more representation in the Senate than it ended up with. She said she was "absolutely" convinced Kerr voted for the Johnson County-friendly map to advance his gubernatorial ambitions, gaining support in voter-rich Johnson County. Kerr's running mate is Johnson County Chamber of Commerce executive Mary Birch.
"I find it interesting now that he is touting himself as the only candidate for western Kansas," Lee said. "One has to ask what good that does."
'On with the business'
Lee said Kerr would need to do major "fence mending" if elected governor and that mending fences wasn't one of his strong suits.
"I did strongly endorse Fred Kerr when he ran for governor in 1994," Lee said. "There were a couple of people Republicans who became county chairmen for Fred Kerr who I encouraged to do so. But I found Fred much easier to work with, much better at listening, much better at consensus building."
Fred Kerr went through the redistricting process after the 1990 census. He predicted the bad blood his brother drew as Senate president would mostly wash away by the next session.
"I think when the next session rolls around, people will be wanting to do the right thing," Fred Kerr said. "There might two or three that hang onto a grudge. But I think the vast majority will get on with the business."
Dave Kerr has said he thinks there should be some other process for reapportionment than the one used this session.
"Honestly, I think there's a better way to redraw these lines," he said at a recent campaign stop in Johnson County. The audience included one still-unhappy conservative GOP senator near the front.
Copyright 2018 The Lawrence Journal-World. All rights reserved. This material may not be published, broadcast, rewritten or redistributed. We strive to uphold our values for every story published.