BENNINGTON — Jim and Sue Keating are spending their retirement years on a tractor working in fields south of Bennington and in their kitchen and basement, running an organic farming business.
They add value to some of their produce and sell packaged goods to buyers mostly in Saline and Ottawa counties.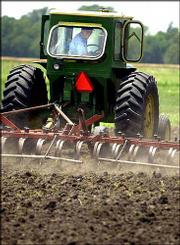 "Other people think I'm crazy," said Jim, 60, a civil engineer who retired from Kansas State University-Salina in May. He's dedicating much of his efforts to make their 160-acre organic farm turn a profit. "Maybe we can be an example," he said.
If they can prove to commercial producers that farming without synthetic fertilizers, pesticides and herbicides can put money in their pockets, then spending their golden years under the hot sun will be worth it.
They are convinced organic foods are healthier, and producing them without chemicals is safer for the environment, especially water.
Their three wheat varieties are blended, ground into flour, mixed with other ingredients and bagged as mixes for bread, pancakes, muffins and cookies. They also grow and market asparagus.
They sell directly to local and area consumers and at the Salina Farmers' Market.
The bulk of their produce is sold as raw organic commodities. It's not trucked to the local grain elevator, where conventionally grown crops go. Rather, it's marketed through the Kansas Organic Producers Assn. and shipped directly to processors, who then make and market products in populous areas of the United States and internationally.
Back on their relatively small farm near Bennington, the Keatings, parents of four grown daughters and grandparents of 10 children, are enjoying the challenge of prospering in a wholesome farming operation. It's called "sustainable agriculture."
"Being sustainable means two or three generations from now our kids aren't going to have to pick up and move because the water can't be drunk," Jim Keating said. "We need to work with nature a little, rather than tell it how to produce."
Chemical free
All but one small field of their farm is certified organic through the Organic Crop Improvement Assn. That means the soils are free of applied commercial chemicals. It takes at least three years of organic farming to become certified. The Keatings' farm will be 100 percent certified organic in 2003.
Using a seven-year crop rotation alfalfa for three years, followed by one year each of soybeans and milo, then another year of soybeans and then wheat the couple are growing crops soybeans and alfalfa that produce nitrogen fertilizer. Those are followed by crops such as wheat and milo that use it up.
They buy natural phosphate and apply it to the land. Another source would be manure from cattle or other livestock that eat organic feed. But the Keatings don't have enough land to support animals. They do use "green manure" cover crops that produce fertilizer.
They rely on themselves to market value-added products to customers throughout the Salina, Minneapolis and Bennington areas, grinding whole grain into flour. Their products retain such things as wheat germ, endosperm and bran, which are taken out of commercial breads. Those products have to be frozen. Otherwise, the products become rancid and cannot be used.
Healthy living
Commercial milling removes nutrients from flour to improve shelf life, and then adds four basic nutrients thiamin, riboflavin, niacin and iron.
Jim Keating admits something must be right about what people are eating when their life expectancy is longer, but that can be accomplished organically as well. And in the process, it can help the environment by not sending excess synthetic fertilizers and chemicals into the soil and water supply.
"All we're trying to do is things in a more natural and wholesome way," Jim Keating said. "When you eat whole foods, your body needs everything."
The bulk commodities are marketed through the Kansas Organic Producers Assn., based in northeast Kansas. Ed Reznicek, of Goff, is the part-time manager for the 60 members in Kansas, western Missouri and southern Nebraska, 45 of whom actively market with the co-op. There are about 15,000 certified organic acres in Kansas.
Much of the state's grain is sold to Heartland Mills, a Marienthal company in Scott County that specializes in organic products, and to millers in the western U.S.
Japan is a big consumer of organic soybeans, Reznicek said, although that market has gone a bit soft because of chronic economic problems and competition from China, according to experts.
Timing and luck
While organic producers typically farm fewer acres, the profit potential is higher in niche markets. Wheat, for example, will fetch $4.50 to $5.50 a bushel, depending on protein content. Jim Keating shoots for 12 percent protein, but it's normally 11 percent.
The Keatings still aren't sure if their organic farm is profitable, because they haven't yet sold the bulk of their first organic wheat crop.
Success in organic farming depends on "skill, timing and some luck," Reznicek said.
Copyright 2018 The Lawrence Journal-World. All rights reserved. This material may not be published, broadcast, rewritten or redistributed. We strive to uphold our values for every story published.