Kansas City, Mo. — Ellis Burks' second homer of the game, a three-run shot in the 10th inning, led the Cleveland Indians to a 5-3 victory against Kansas City in the second game of a doubleheader, snapping the Royals' nine-game winning streak.
Brandon Berger and A.J. Hinch drove in two runs each and Runelvys Hernandez earned his first career win as Kansas City won the opener 7-5.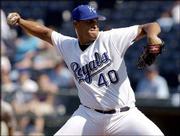 Burks hit a two-run homer in the first inning of the nightcap against Shawn Sedlacek, and Charles Nagy pitched six strong innings in his first start off the disabled list for Cleveland.
The Indians then won it in the 10th. Eddie Perez walked with one out against Brad Voyles (0-2). One out later, Omar Vizquel hit a ground-rule double.
Burks hit a 2-2 pitch over the wall in left field for his 21st homer of the season, giving the Indians a 5-2 lead. It was Burks' second multihomer game this year and 21st of his career.
Paul Shuey (3-0) pitched a scoreless ninth for the win and Bob Wickman got three outs for his 20th save in 21 opportunities.
Joe Randa had an RBI single in the 10th, but the Royals fell short, ending their longest winning streak since August 1989.
The Royals tied it in the fifth inning. Chuck Knoblauch, who was activated from the disabled list between games, was hit by a pitch, stole second and went to third on Neifi Perez's bunt single.
Perez stole second and both runners scored on Brent Mayne's single. That was all the Royals could manage off Nagy, who allowed two runs and five hits in six innings. Nagy had been out since June 7 with an injured elbow.
Hernandez didn't get a reward for winning the opener. He was sent back to Double-A Wichita after the game.
When: 1:05 p.m. today.Where: Kauffman Stadium.Television: None.Pitchers: Darrell May (2-6) vs. C.C. Sabathia (6-8).KC record: 42-55.
With two doubleheaders this week, the Royals brought Hernandez up to make two starts. Hernandez (1-0) allowed three runs and seven hits in seven innings. He retired eight straight batters at one point and struck out nine in his second career start.
"It was a tough decision, but we have five starters and if we
kept him here, he would be sitting in the bullpen, and we don't want that, we want him pitching," Royals manager Tony Pena said.
In two starts, Hernandez was 1-0 with a 3.75 earned-run average.
"We want him to pitch," Pena said. "We brought him up to pitch two games. We saw what we have in him. We have a big league pitcher. I was very impressed with the way he threw the ball and with his stuff on the mound."
Cleveland's Jaret Wright (0-1), who missed more than a year with a shoulder injury, allowed five runs and seven hits in four innings in his first major league appearance since June 21, 2001.
"I felt good physically," Wright said. "The velocity was there. It's more not being in that situation in over a year. You can replicate the physical aspect, but the mental edge is tough to get back."
Berger hit a two-run single off Wright in the third inning to make it 5-1. Hinch added a two-run homer in the fifth off Jake Westbrook to put the Royals up 7-3.
Roberto Hernandez allowed a two-run homer to Chris Magruder in the ninth before getting his 19th save in 23 chances.
Notes: Sedlacek, from Cedar Rapids, Iowa, had 19 family members and friends in the crowd to see his start. ... The Royals' 9-3 start since the All Star break matches their best since 1985. ... Royals 1B Mike Sweeney missed his ninth straight game with stiffness in his lower back. ... The attendance for the doubleheader was 36,277, the third-largest crowd behind opening day and the June 8 game against St. Louis.
Copyright 2018 The Associated Press. All rights reserved. This material may not be published, broadcast, rewritten or redistributed. We strive to uphold our values for every story published.